XW-NAC1-K
Many gadget and music fans agree that one portable device is never enough. With dual top-mounted iPod connectors, Pioneer's Duo Series systems, XW-NAC1-K and XW-NAC3-K, are perfect accessories for the casual music fan who desires freedom and flexibility in their entertainment lifestyle.
Listening to music on either Duo system doesn't mean the source device must be docked. For users who require a convenient way to enjoy music while keeping their devices close to them, both systems feature built-in Bluetooth to wirelessly stream audio from an iPhone 3G, iPhone 3GS, iPod touch (2nd generation or later), personal computer or any other Bluetooth compatible device.
With dual docking ports on top of the Duo Series systems, two different iPods, iPod touch or iPhones can be mounted at the same time, allowing users to select between two music collections while simultaneously charging both batteries.
The Double Shuffle feature allows users to enjoy content from one or both of the docked iPhone, iPod touch or iPod devices. While in shuffle mode, Double Shuffle acts as a virtual DJ providing continuous playback of music between the two docked players and fading the music in and out between songs.
To quickly select and navigate through tracks, users can preview music on devices that are docked on the Duo Series systems. The first ten seconds of each song is played with fade in and out effects using the Hi-Lite Scan function. Once a desired song is located, a push of a button plays the song in its entirety.
With Pioneer's XW-NAC3 Duo system, users can conveniently playback music files from any personal computer in the house through DLNA 1.5. The XW-NAC3 becomes part of an entire home network system with the ability to connect to a DLNA media server, personal computer or other networked devices.
Internet radio provides endless audio entertainment with thousands of worldwide stations. The XW-NAC3 allows playback of Internet radio utilizing its vTuner feature. With a push of the Internet Radio button on the included remote, users can access virtually any type of music content around the world.
Both Duo Series models offer an auxiliary input for connecting audio devices with a mini jack (headphone) output. For added convenience, the XW-NAC3 features a USB4 connection located on the top of the dock. Linked USB devices such as hard drives, thumb and flash drives with MP3, WMA, AAC and FLAC files can all be accessed using the dock's controls.
Compressed audio files are often significantly reduced in size for storage convenience, and due to the compression process, the sound quality of the music can be sacrificed. Pioneer developed Sound Retriever AIR to enhance the audio quality and musical detail of compressed music files sent via Bluetooth to create a fuller, more rich and enjoyable listening experience.
The contemporary cosmetic design of the Duo Series models blends nicely into any home decor. The cosmetic finish and sleek design makes them ideal for small areas, and the controls on the top of the dock give them a simple, clean look. Found on the XW-NAC3, the blue backlit LCD screen displays a clock with wake up and sleep timer, volume and additional music information.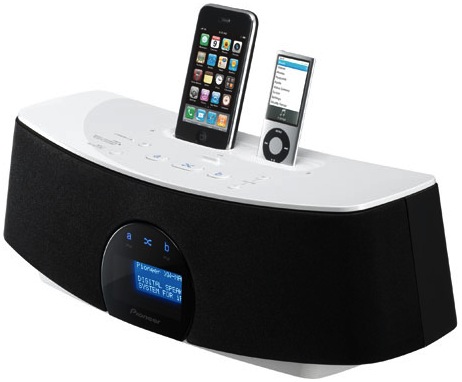 XW-NAC3-K
The Duo Series systems, XW-NAC1-K will be available in May and the XW-NAC3-K will be available in June for a suggested retail price of $349 and $449, respectively.