New Pioneer Single CD Players Offer Advanced Features That Elevate In-Car Experience
Pioneer Electronics (USA) Inc., the number one car audio manufacturer in the world today, continues to expand its in-car entertainment and connectivity options with a new line of single CD players, offering increased features and the best sound quality at a variety of price points to meet the diverse needs and expectations of today's consumers for the ultimate in-car experience.
"We're packing our new single CD players with innovative features that matter to not only kids but also to a broad range of consumers," said Larry Rougas, vice president of marketing and product planning for the mobile business group of Pioneer Electronics (USA) Inc. "Pioneer brings the world's first iTunes tagging feature to two new car CD Players, letting users tag music as they listen to FM radio (using RDS data where available) or HD Radio channels, taking discovery of music to a new level. Pioneer is also powering its audio units to 'speak the language' of today's iPod generation. Features like this not only elevate the driving experience, but provide the convenience of being at home."
DEH-P7100BT
At the top of the new line are the flagship Pioneer DEH-P7100BT and Premier DEH-P710BT models, designed for the tech savvy enthusiast with the latest advanced features including:
Bluetooth*** 2.0 from Parrot — Pioneer delivers premium hands-free phone calling with absolute clarity due to a twin beam microphone that cancels background noise and echo effects. A variety of hands-free profiles are supported including HFP, A2DP, OPP, AVRCP, PBAP and AT Command.
Voice recognition — Pioneer adds safety and convenience to making hands-free mobile phone calls. Drivers can simply say, "Call David Smith," or recite David's phone number, and the system responds with text to speech (TTS), acknowledging the user's command and executing it.
iTunes tagging — Simply press and hold Pioneer's rotary commander to tag music on FM radio (using RDS data where available) or HD radio channels (optional HD Radio tuner required). Users can then easily transfer songs to a connected iPod to preview and purchase songs as they please (when the iPod is later connected through a computer to iTunes). The new "Tag & Share" gives users the power to "share" their tags with another person's iPod when both devices are connected via the new dual USB.
Dual USB** inputs — Experience greater flexibility to link a combination of iPhones*, iPods* or other music players at the same time, without having to remove one device to replace it with another. This powerful new feature is also included on the DEH-P5100UB/ DEH-510UB CD player units with one USB** input located on the front face plate.
From the entry level Pioneer DEH-1100MP to the flagship DEH-P7100BT CD player, the new line of single CD Players maintains Pioneer's clean, modern design, with cosmetic and feature enhancements that ensure improved ergonomics and in-dash integration for all units. The highly-regarded rotary commander provides superior operation with either LCD or Organic Electroluminescence (OEL) displays, for swift retrieval of music files and ease of use when scrolling through audio and function menus.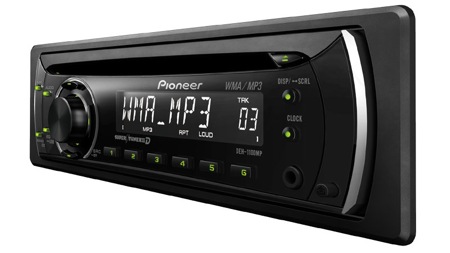 DEH-1100MP
Additionally, Pioneer's new single CD players deliver these key features depending on the model:
iPod Control — Pioneer makes its new single CD players (starting with the DEH-P4100IB) the preferred solution for controlling an iPod* in the car, with an enhanced iPod interface that includes:

Alphabetical Speed Search allows the user to quickly scroll through long lists of artists, albums, and songs by accessing the first letter in the name.
iPod Passenger Control gives passengers the option to browse and select music directly through the iPod player itself.
Link Search lets users view all iPod content by the artist currently playing (similar to the artist folder function on an iPod).

Advanced Sound Retriever (ASR) — Pioneer adds its patented Advanced Sound Retriever (ASR) technology to most new players, restoring musical detail lost in the creation of compressed music files (MP3, WMA and AAC) and creating a fuller, richer and more enjoyable listening experience during playback.
Bluetooth Wireless Technology*** — Pioneer incorporates built-in Bluetooth from the mid-level models, enabling hands-free mobile phone operation that uses the speakers in the car and an integrated microphone for calls. Other single CD models are "Bluetooth Ready," allowing addition of the feature with the CD-BTB200 Bluetooth Wireless Adapter (sold separately).
Auxiliary Input — Pioneer features a mini-jack port on almost all models for quick connection of any portable device allowing the user to hear content from an auxiliary-connected device through the Pioneer system.
HD Digital Radio Ready — Pioneer IP-bus headunits can receive HD Radio content with the optional GEX-P10HD HD tuner (sold separately).
Satellite Radio Ready — Pioneer gives consumers access to more than 170 channels of music, sports and news through an optional tuner and paid subscription to either or both XM and SIRIUS Satellite Radio on most single CD models.
*Compatible with most iPods 3rd generation or later. See more details about compatibility on the pioneerelectronics.com website.
**Not all USB storage devices or contents are compatible with a USB-enabled Pioneer system, such as DRM content and MTP connection devices. See more details about compatibility on the pioneerelectronics.com website.
***Bluetooth functionality requires a Bluetooth-enabled Pioneer system and a compatible Bluetooth-enabled mobile phone. Some Bluetooth-enabled mobile phones may not be fully compatible with (and have full functionality with) a Bluetooth-enabled Pioneer system. See more details about compatibility on the pioneerelectronics.com website.