Phiaton introduced its PS 20 BT Half In-Ear Type Wireless Stereo Headset with dramatically improved audio performance for enhanced music listening and crystal clear phone reception.
The PS 20 BT's powerful 14.3mm drivers produce pure and accurate sound for improved performance. Most importantly, the unique "half in-ear" design of the earphones allows them to be worn just outside the ear canal for a comfortable fit and hours of listening enjoyment anywhere, anytime.
Thanks to the built-in Bluetooth v3.0 technology, users can easily answer phone calls without having to remove their earphones — and with the special Echo-Off Noise reduction technology, background noise is virtually eliminated during your calls. For added flexibility, the PS 20 BTs provide a calling time of 6 hours, 6-hours of music playing time and 250 hours of standby. Notably, thanks to Phiaton's advanced OmniPair technology, the PS 20 BTs lets users connect up to eight devices at once, and use up to two of them simultaneously. This makes it simple to answer calls while listening to your music — without any interruption.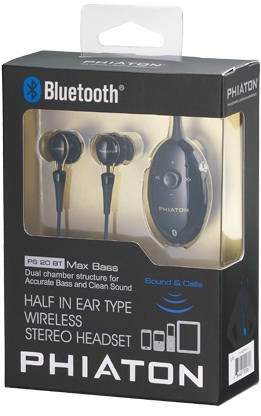 Additionally, the full inline musical controls let you take charge of your music library (FF, REW, PLAY, STOP, PAUSE, Vol+, Vol-) — all without even having to take your music device out of your pocket or handbag. For even more convenience, the PS 20 BTs come with a handy 'Clip and Go' clip controller that attaches to your bag or clothing so everything is within easy reach.
To provide listeners with rich, gentle-yet-powerful bass response, the PS 20 BT's feature Phiaton's MaxBass technology with a dual-chamber structure to virtually eliminate unwanted vibration and echo. Users enjoy carefully balanced low-frequencies and treble equalization for great sound quality with all music genres.
The PS 20 BT's ergonomic half in-ear design combines the excellent bass response of in-ear style buds with the crystal clear high frequency response of open-ear style headphones. Engineered for a snug fit just outside the ear canal, they feature a lightweight glossy housing that allows for hours of comfortable listening. The PS 20 BTs come with four separate sizes of soft silicon tips to ensure a natural feel and a welcome no slip fit.
The PS 20 BTs come with a stylish pouch for easy portability and are available in glossy black. The easy-to-use cord adjuster ensures total convenience and comfort, and the compact remote control is perfect for on-the-go use.
Price and Availability
The Phiaton PS 20 BT will be available for $149.