PENTAX announced the 14-megapixel Optio RS1500 digital compact camera with cosmetically customizable skins to match the personality and style of its owner. The second-generation removable PENTAX-original faceplate system features a no-hassle screwless faceplate design and interchangable lens ring snap (choice of orange or black included) to hold custom skins of any personal choice or design.
Besides a unique, completely customizable design, the Optio RS1500 features 14 megapixels, a large three inch LCD monitor, a high-performance 4X optical zoom lens covering 27.5mm wide angle to 110mm telephoto and simple, user-friendly operation. Encased in a lightweight body about the size of a credit-card, the Optio RS1500 is compact enough to carry anywhere.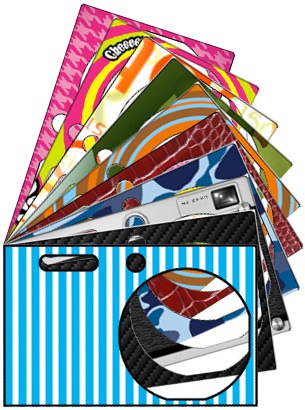 New-generation skin change system
The Optio RS1500 features an easier than ever, simplified faceplate change system to add and remove skins. The transparent acrylic panel may now be affixed or removed without any special tools or screws. Equipped with a choice of 10 included skins, and a new, removable lens ring in a choice of two colors, the Optio RS1500 is easy and fun to dress right out of the box.
Exceptional image quality
With 14 megapixels, superior noise reduction and a high-performance smc PENTAX optical zoom lens, the Optio RS1500 delivers brilliant, high-quality images with well-defined details and edge-to-edge sharpness even when images are enlarged.
Digital filters for creative expression
The Optio RS1500 features nine digital filters including Toy Camera, Retro and Sepia to add a variety of visual effects to images without the need for a computer. Multiple filters may also be applied to a single image for even more unique, creative visual effects.
Automatic face detection with user-friendly features
The Optio RS1500 features the advanced automatic Face Detection AF&AE function to instantly and accurately detect human faces within the image field and optimize focus and exposure settings. The Optio RS1500 also offers more convenient features designed for the easy capture of beautiful snapshots including:
Smile Capture mode automatically releases the shutter the moment the camera detects the subject's smile
Natural Skin mode to give the subject a smooth, healthy skin tone
Large, easy-to-view 3.0 inch LCD monitor
The compact Optio RS1500 features a large 3.0 inch high-brightness color LCD monitor with approximately 230,000 dots providing large, detailed images and menus.
Optical 4X zoom lens with wide-angle coverage
A high-performance 4X optical zoom lens covering focal lengths from 4.9mm to 19.6mm (equivalent in the 35mm format to approximately 27.5mm wide angle to 110mm telephoto) is featured on the RS1500. With this wide zoom range, the camera captures a wide variety of subjects and scenes — from wide-angle shots such as spectacular landscapes, majestic architectural images and group shots in small spaces to telephoto images such as tightly cropped snapshots taken from a distance. Combined with an Intelligent Zoom function, the camera provides tighter zoom on subjects and extends the zoom to approximately 26.8 times without compromising image quality.
Auto Picture mode automatically selects the appropriate shooting mode
The Optio RS1500 features PENTAX-original Auto Picture mode to automatically select the most appropriate shooting mode for a given subject or scene by accurately assessing various photographic conditions affecting the subject. This user-friendly mode instantly and unfailingly selects one of the 15 shooting modes (including Blue Sky and Sunset) and optimizes various camera settings such as sensitivity and shutter speed for optimal results with minimal effort.
High-quality HD movie recording
The Optio RS1500 captures beautiful, high-definition movie clips (1280 x 720 pixels)* and features Movie SR (Shake Reduction) mode to automatically compensate for camera shake during movie shooting.
* When the Optio RS1500's AV output terminal is used, movie clips are output as normal-image-size data. If the user wishes to play back movie clips at high-definition-TV proportions (1280 x 720 pixels), the data must be transferred to a personal computer for playback. When movie shooting, the angle of view becomes narrower than normal shooting.
Additional features
A new Digital Blur Removal function to effectively compensate for camera shake during still-image shooting
Digital Panorama mode to automatically stitch a single panoramic picture from as many as three images
Green mode to dramatically simplify camera operation with a fixed set of shooting settings.
Frame Composite function (with three frames stored in the camera) to shoot or compose images with decorative photo frames
Burst shooting at a speed of 16 images (fixed at 640 x 480 pixels) in two
Auto-tracking AF mode to keep constant focus on a moving subject
Image viewing, editing and filing software package compatible with latest operating systems such as:

Windows 7 and Mac OS X10.6:

MediaImpression 3.0 for PENTAX (Windows version) and
MediaImpression 2.1 for PENTAX (Macintosh version)
Price and Availability
Available in pearl white or silver, the Optio RS1500 will ship in April 2011 for $149.95.
Pentax Optio RS1500 Reviews
From Critics Around the Web