PENTAX Announces Colorful Optio M50, Tiny Optio S12, Travel-Ready Optio E50; Optio A40 to Ship
PENTAX Imaging Company announced three new compact camera models and confirmed the Optio A40 is scheduled to ship in February 2008.
The PENTAX Optio M50, with a 5X optical zoom housed in an ultra compact body with fun color options, is the ideal combination of style, function and price for both customers looking to update their camera and new digital users. The camera features a unique Smile Capture function, which distinguishes smiles on a subject and automatically releases the shutter. Available in three color choices including silver, light blue and pink, the Optio M50 will ship in March 2008 for US $229.95.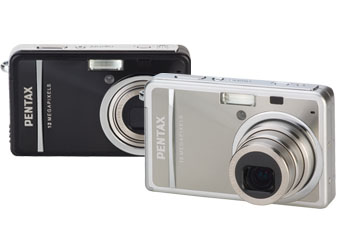 The PENTAX Optio S12 is the smallest, most stylish 12MP camera in its class. An ideal choice for the experienced digital camera user looking for an extremely compact camera with advanced features, the PENTAX Optio S12 is scheduled to ship in April 2008 for US $279.95. The Optio S12 will be available in silver and black.

The PENTAX Optio E50 has advanced functions and high resolution with simple operation that appeal to customers looking for the maximum features and a minimal price – making it an ideal gift. The Optio E50 is also an excellent travel camera due to compatibility with easy to find AA batteries. This camera will ship in March 2008 for US $149.95.

The PENTAX Optio A40 appeals to the advanced digital user who wants the most from their compact camera including a high resolution sensor, mechanical Shake Reduction system, and advanced capture settings. Previously announced in the fall of 2007, the Optio A40 will ship in February 2008 for US $299.95.
"PENTAX's goal with our compact digital cameras is to offer customers advanced features in the most compact bodies at a reasonable price," said Ned Bunnell, President, PENTAX Imaging Company. "Every compact offering from PENTAX includes the popular face recognition feature, Digital Shake Reduction, PENTAX's own Auto Picture mode and high quality design."
All of these latest PENTAX compact digital products will be displayed at PMA 2008 Trade Show from January 31 to February 2 in Las Vegas.
PENTAX Imaging Company is an innovative leader in the production of digital SLR and compact cameras, lenses, flash units, binoculars, scopes, eyepieces and mobile printers and scanners. For more than 80 years, PENTAX technology has developed durable, reliable products that meet the needs of consumers and businesses. With headquarters in Golden, Colorado, PENTAX Imaging Company is a division of PENTAX of America, Inc.