12-megapixel camera features clean, straight lines and easy-to-push round, control buttons
PENTAX Imaging Company announced the Optio H90 digital camera with a clean, contemporary design that is as in style in a museum of modern art as at a concert or sporting event. Developed with the concept of "functional beauty" in mind, the fashionable and affordable Optio H90 offers a full assortment of features to capture a variety of subjects and scenes. This first model in the new Optio H line features a wide angle 5X optical zoom lens (28mm-140mm equivalent), a 12.1 megapixel high resolution CCD sensor, widescreen HD video capture at 720p and 30 FPS, and Eye-Fi compatibility. Improved Pixel Track Shake Reduction technology captures blur-free images and the Face Detection, Smile Capture, and Blink Detection functions help users create better portraits. The Optio H90 will ship in February 2010 in a choice of Orange-Silver, Matte Black and Ceramic White for $179.95.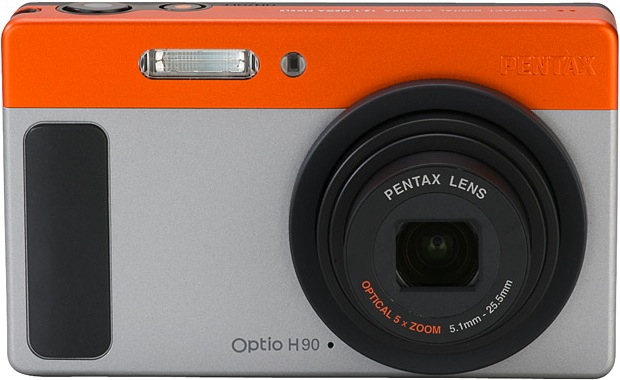 PENTAX OPTIO H90 FACT SHEET
Clean, modern, functional design
Designed with functional beauty in mind, the Optio H90 features clean, straight lines and easy-to-push round, control buttons. Featuring high quality aluminum alloy and matte paint finish, the body is shaped for a firm, comfortable hold.
Optical 5X zoom lens for wide coverage from wide angle to telephoto
The Optio H90 features a high-performance optical 5X zoom lens covering focal lengths from 5.1mm to 25.5mm (equivalent in the 35mm format to approximately 28mm wide angle to 140mm telephoto). With this wide zoom range, the Optio H90 may be used for a wide variety of subjects and scenes from spectacular landscapes, majestic architecture and group shots within confined spaces to tightly cropped snapshots from a distance. Featuring an Intelligent Zoom function, which allows for even tighter zooming in on the subject, the digital zoom range extends approximately 31.3X.
Exceptional image quality
Featuring 12.1 effective megapixels, the Optio H90 delivers exceptional image resolution with the PENTAX-developed high-performance imaging engine for high quality images with well-defined details. Even when images are enlarged, the camera delivers sharp, high-resolution prints with edge-to-edge sharpness.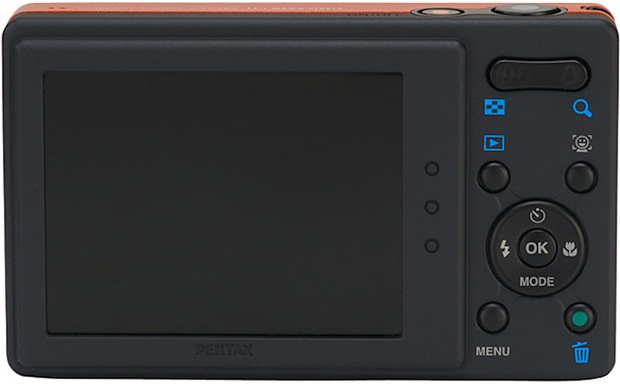 Large, easy-to-view LCD monitor
Despite its compact body, the Optio H90 features a large 2.7 inch high-brightness color LCD monitor with approximately 230,000 dots. With this large monitor, the user may check results of images and make any desired menu adjustments quickly.
High quality HD movie recording
The Optio H90 captures beautiful, high-definition movie clips (1280 x 720 pixels).* The camera is equipped with sophisticated Movie SR (Shake Reduction) mode,** which automatically compensates camera shake during movie capture for high quality, stabilized movie clips with minimal effort.
* When the Optio H90's AV output terminal is used, movie clips are output as normal-image-size data. If the user wishes to play back movie clips at high-definition-TV proportions (1280 x 720 pixels), the data must be transferred to a personal computer for playback.
** When the Movie SR mode is selected, the angle of view becomes narrower than normal shooting.
Automatic Face Detection for effortless snapshots
The Optio H90's Face Detection AF & AE function detects up to 32 faces and optimizes focus and exposure settings in a mere 0.03 seconds even when faces are tilted or turned sideways. The Optio H90 is equipped with a Smile Capture mode that automatically releases the shutter the moment the camera detects the subject's smile, and a Blink Detection function that alerts users if a subject's eyes closed at the time of shutter release.
Additional features
Eye-Fi connected: optimized for use with Eye-Fi wireless memory cards
Pixel Track SR (Shake Reduction) mode to effectively compensate for camera shake during still-image shooting
Auto Picture mode for automatic selection of one of eight shooting modes for optimum results
Digital filters, including Toy Camera and Retro, to add distinctive visual effects to recorded images
D-Range setting to prevent whitewashed (overexposed) and blacked-out (underexposed) areas in an image
Auto-tracking AF mode to keep constant focus on a moving subject
Digital Panorama mode to create a single panoramic picture from as many as three images
Digital Wide function to compose an extra-wide-angle picture (equivalent to an image taken with an approx. 21mm lens in 35mm format) from two images.
Frame Composite function (with 90 frames stored in the camera) to shoot or compose images with decorative photo frames
Image Recovery function to recover accidentally erased images
MediaImpression 2.0 for PENTAX software for image viewing, editing and filing (compatible with the latest operating systems, including Windows 7 and Mac OS X 10.6)