Panasonic SC-BT230
Panasonic just introduced Blu-ray home theater systems which employ advanced proprietary cinema surround to envelop viewers in a remarkably authentic home theater experience. Panasonic's True to Cinema sound and True to Cinema picture quality enable viewers to experience dynamic, clear sound and outstanding picture quality in the comfort of their home.
The top-of-the-line SC-BT730 delivers exceptional sound quality with Pure Direct Sound speakers for front speakers and advanced bamboo cone speakers for the center and front speakers. The slim-type speaker box reduces unwanted reflection from the baffle and brings out high quality pure direct sound. This system also boasts wireless rear speakers.
The SC-BT330 and SC-BT230 are equipped with advanced bamboo cone speakers for the center speaker, resulting in more responsive sounds and pure and clear vocals.
The SC-BT730 and SC-BT330 include a Kelton-type subwoofer which, due to its distinctive design, drives a powerful reverberating bass in spite of its small, compact size.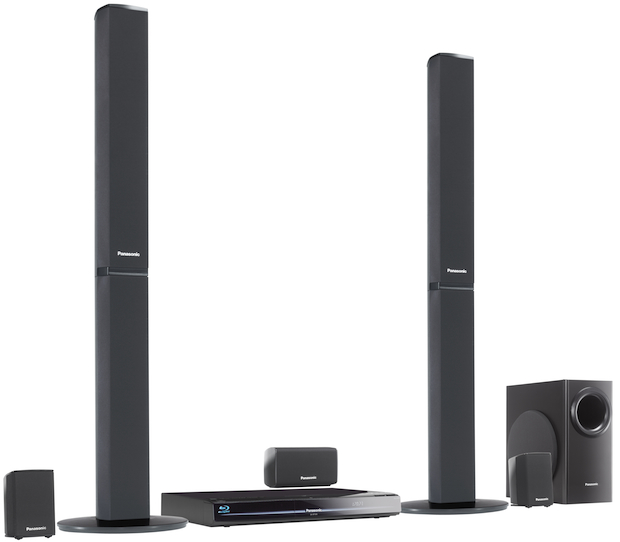 Panasonic SC-BT330
The new True To Cinema sound reproduces a realistic movie theater surround experience. By using a combination of real speakers and virtual speakers, the listener will be enveloped in smooth, natural surround sound. Especially effective in action scenes such as a car chase, this gives the feeling of sitting in the center of a movie theater.
To achieve the True to Cinema picture quality, each of these three models incorporates the PHL Reference Chroma Processor Plus, developed at the Panasonic Hollywood Laboratory. This high precision processing technology reproduces clear, vibrant colors that are extremely faithful to the original film.
Each of the models is equipped with a Universal Dock for iPod/iPhone, making it easy for users to play their favorite music and video downloads.
Networking and connectivity capabilities abound with the new models through VIERA CAST™ , including new content from Netflix™, as well as Amazon Video on Demand™, YouTube™, Picasa™, Bloomberg TV™ and Weather information. VIERA CAST compatibility lets users access online and easily view exciting content for increased entertainment experience. BD-Live lets users enjoy bonus content available with Blu-ray Discs™ and play games on the Internet. All of the theater systems are Wireless LAN ready, with a Wireless LAN adaptor plugged into the USB terminal, online content can be enjoyed wirelessly by accessing to a Wireless LAN router. (Requires Broadband Internet Service)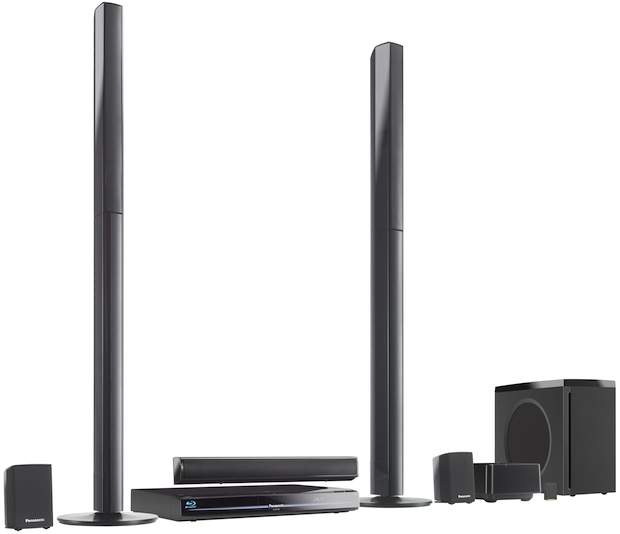 Panasonic SC-BT730
For easy set-up and clutter-free layout, the SC-BT730 offers wireless rear speakers right out of the box. Simply connect the rear speakers to the included Wireless Receiver Unit, which receives radio wave transmission from the main unit. The SC-BT330 and SC-BT230 both offer rear wireless speaker capability with purchase of the optional SH-FX71 Wireless Kit for Rear Speakers.
Panasonic's new Blu-ray Disc™ Home Theater systems — SC-BT730, BT330 and BT230 bring thrilling, incredibly True to Cinema audio performance that rivals a movie theater and True to Cinema picture quality, plus enhanced networking functions to the comfort of one's home.
Pricing