Panasonic today introduced the new HDC-SDX1, the world's lightest1 full-High Definition (HD) camcorder, featuring an ultra-compact body and weighing in at just under 0.41 lbs. With its stylish and lightweight design, the new Panasonic SDX1 features a 35.8mm wide-angle lens2, 23x Intelligent Zoom and can also double as a Web camera with built-in capabilities for Internet video calling.
In addition to being a camcorder that can capture HD video content, the SDX1 also serves as a Web camera and microphone, allowing for users to connect with online video chat programs, such as Skype3, and make video calls over the Internet to enable easy visual communication. By simply connecting the SDX1 to a computer, users can enjoy face-to-face communication with family or friends in distant locations right on the computer screen. In addition, the SDX1 supports Apple iFrame video format for smooth and easy loading and editing of image data using a Mac® computer. Users can directly upload video clips to YouTube or Facebook® without having to launch a browser, for quick video sharing with included software.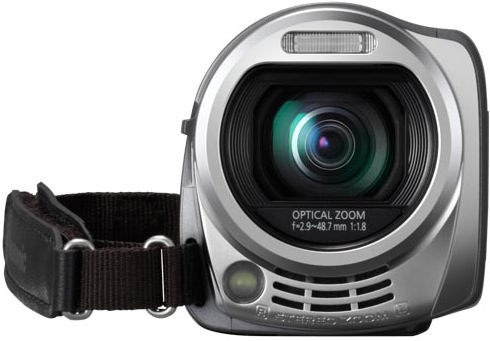 The Panasonic HDC-SDX1 also features a newly-developed HYBRID Optical Image Stabilization system (O.I.S.), an image stabilization system that provides optical and electrical hand-shake correction. This system specifically helps when zooming, making it possible to record beautiful videos. In addition to the HYBRID O.I.S. system, the SDX1 provides even more powerful hand-shake correction with O.I.S. Lock. By pressing the O.I.S. Lock button on the LCD monitor, the blur detection sensitivity is maximized and other camera movements are detected and corrected.
While compact in size and light in weight, the SDX1 is packed with advanced features. It has full-HD AVCHD recording capabilities with outstanding 1920 x 10804 image quality, and records in the PC-friendly MP4 format. Its 35.8mm wide-angle setting is optimal for recording portraits indoors, as well as sweeping landscapes and even allows for voices to be clearly recorded at far distances. The Intelligent Zoom function which was achieved with the Intelligent Resolution technology of the newly-evolved image processing LSI, makes it possible to take telephoto shots with zoom power up to 23x.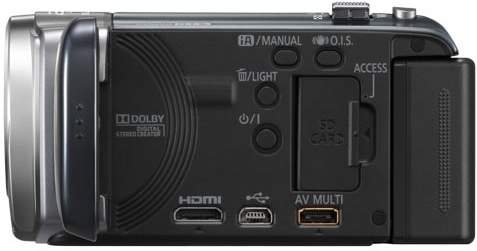 Panasonic's Intelligent Auto (iA) mode automatically selects the most suitable of six shooting modes at the simple press of a button. These include Face Recognition, the new HYBRID O.I.S., AF/AE Tracking, Intelligent Scene Selector, Face Detection and Intelligent Contrast Control.
Face Recognition finds the registered faces of subjects and automatically optimizes the focus and exposure, while continuously tracking them as they move around within the LCD frame.
HYBRID O.I.S. provides more accurate hand-shake correction with its four-axis blur detection, helping to steady images even when zooming or shooting a moving subject.
AF/AE Tracking tracks a moving subject to make sure it's recorded in optimal image quality. The normal Auto mode adjusts the focus and exposure for a subject at the center of the screen. With AF/AE Tracking, the user "locks on" to a subject by simply touching the LCD screen.
Intelligent Scene Selector detects the situation and switches the scene mode accordingly.

Face Detection captures faces beautifully even in dim or backlit scenes.
Intelligent Contrast Control prevents blown highlights and blocked shadows to retain natural, highly-nuanced images with proper contrast.
Touch Screen Operation with a 2.7-inch wide LCD monitor.
The Panasonic HDC-SDX1 will be available in black in September 2010 with a suggested retail price of $499.95.
"With the addition of the SDX1, Panasonic has given consumers a versatile camcorder that can be used not only for high-quality video shooting, but also sharing these precious recorded moments with family and friends who may be far away. We do our best to provide products that adapt to the ever-changing world of technology and this model does just that — it's a camcorder that shoots high-quality video, using its incredible zooming capabilities and advanced optical technology — while providing consumers with the ability to make video calls from a computer."
— Chris Rice, Senior Product Manager, Imaging, Panasonic Consumer Electronics Company