Weighing Only 16 Pounds, Battery Back-Up is Ideal for Remotely Located A/V Equipment
Panamax, a world-leading provider of AC power management solutions, today announced a new compact, lightweight UPS battery back-up. Measuring 10.25 inches by 8.875 inches by 4.375 inches (length x height x width) and weighing only 16 pounds, the MB850 is an ideal back-up solution for home theater applications with remotely located A/V equipment or space and weight constraints.
For home theaters, the MB850 prevents critical equipment from losing its setup configuration and stored data, while avoiding hard-disk crashes in the event of a sustained power loss, such as a power outage. The MB850's compact form factor allows it to be placed close to the equipment. This is especially useful in the protection of home theater projectors, which often are located far from the A/V equipment rack and are generally installed in the ceiling, where the weight of components is a factor.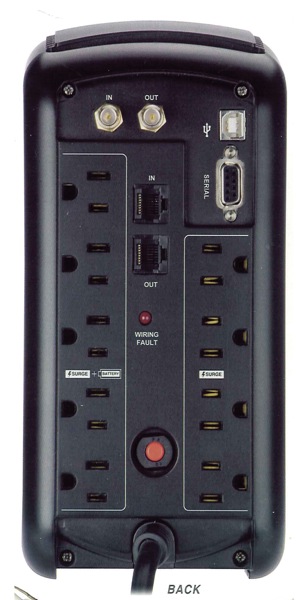 The MB850's Automatic Voltage Regulation prevents home theater equipment lock-ups due to power sags, while keeping connected components from heating up. The unit's battery protected outlets safeguard projection equipment by allowing projection bulbs to go through a proper cool-down cycle before shutting off, saving money on replacement costs. USB and RS232 serial communication ports provide connection and communication between the UPS and a HTPC (home theater personal computer) or home automation system.
The UPS features eight battery-powered, surge protected, and AVR outlets (four noncritical-load outlets, and four critical-load outlets) that ensure temporary uninterrupted operation of connected equipment during a power failure, while resettable circuit breakers provide optimal overload protection. The MB850 offers a digital voltmeter to monitor the incoming line voltage.
The MB850 is available now at an MSRP of 299.95.
Panamax ~ Furman
Panamax and Furman have been international leaders in developing award-winning, innovative power management products for more than 30 years. Their products give audio/video systems the pure, noise-free power they need for superlative performance while protecting them from damage caused by power surges and lightning. Together, as part of Panamax, Inc., Panamax, Furman, and PFPower (a Panamax/Furman brand) address all major electronic markets, including home theater, professional audio and music, broadcasting, audio/video recording, OEM, and office equipment. The company is based in Petaluma, Calif., and sells through an international dealer network and through select retail outlets. More information is available at www.furmansound.com and www.panamax.com.