Palm Centro Brings Palm Ease of Use to Traditional Mobile Phone Users for $99.99, Exclusively from Sprint
Designed for individuals and traditional mobile phone users looking for a better way to manage their professional and social lives, Palm, Inc. (Nasdaq:PALM) and Sprint (NYSE:S) today introduced the Palm Centro™ smart device, at $99.99.(1) With voice, text, IM, email, web, contact and calendar capabilities, a full-color touch screen and full keyboard, Centro brings Palm simplicity and organization to customers who want to stay connected with co-workers, friends and family.(2) Centro will be exclusive through Sprint in the United States for 90 days and is available in onyx black or ruby red.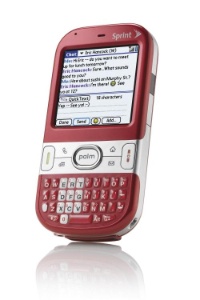 With Centro, Sprint customers can quickly and easily text co-workers and friends, manage email, keep track of their schedules, check stock quotes, watch videos on YouTube™, keep current on the latest news, capture and share pictures, browse restaurant reviews on Yelp™, and get directions on Google™ Maps–all in one small, compact phone.(2) Centro operates on the Sprint Mobile Broadband Network — the fastest and largest national mobile broadband network — giving customers a fast and flexible experience with entertainment and resources on the go.
Fresh Design for New Customers
With a fun, new compact design, Centro is the smallest and lightest Palm phone to date. Centro has a modern, stylish look that feels comfortable in the hand, pocket or evening purse.
Centro was designed as a great phone, messaging, and organizational device, and is incredibly easy to use. It allows users to easily connect with friends, family and co-workers by voice, email or text. And with its full keyboard, Centro makes it easy to quickly and efficiently type text messages and respond to emails, communicating complete thoughts and ideas. Since Centro comes with the Palm OS, it offers all of the great organizer functionality that Palm is renowned for, such as a detailed and integrated Contacts list. Also, the simple and handy calendar makes it easier to manage increasingly busy lives, whether it's juggling business meetings or keeping track of school activities.
As the newest member of the Palm family, Centro is expected to attract new users to the smartphone category. According to IDC, the smartphone market is shifting to the mass market; U.S. smartphone shipments will grow from 13.8 million in 2007 to 74.4 million in 2011.(3)
"Palm Centro has the power of a broadband smartphone at the price of a standard 12-key phone," said Ed Colligan, president and chief executive officer of Palm, Inc. "People looking to have all their contacts and calendar at the touch of a button, plus YouTube streaming videos and the Internet can now get it in a small, cool design with the trademark Palm ease of use. If you're thinking about stepping up to a smartphone, the Palm Centro should be your choice."
Exclusive Sprint Content and Services
With Centro, customers can leverage the speed of Sprint's Mobile Broadband Network – reaching more than 224 million people, 12,988 cities and 1,166 airports – to access helpful and exciting multimedia content, including the following:
Sprint TVSM – Watch live TV or video-on-demand with full-motion video and vivid sound or catch the latest news, sports, weather, entertainment and movie trailers on the go. Choose from more than 50 live television channels and watch programs such as CNN mobile, FOX sports and E! Entertainment; access NFL Network and special programming via Sprint Exclusive Entertainment.
On Demand – Set up personal preferences and get customized news, sports, movies, and weather updates all based on your zip code. Stay informed and connected regardless of where you are on the Sprint Mobile Broadband Network.
Sprint Picture MailSM – Share on-the-go experiences immediately. Take full-color digital pictures and store or send directly from your Centro. Customers also can order prints of their favorite digital photos and pick them up at leading photo centers.
Sprint Mobile eMail – Get easy, mobile access to up to three email accounts from well-known providers, such as AOL, Windows Live (includes MSN and Hotmail), Gmail, Yahoo! and more. Sprint Mobile eMail is a free download for any Sprint data subscriber.
Sprint IM – Extend instant communication from your PC to Centro with access to Yahoo! Messenger, AOL's AIM service and MSN Messenger.
"Sprint customers can seize the day with Centro to stay on top of emails, use text or Sprint Instant Messaging for quick answers, manage appointments, view documents or to make use of a multitude of other productivity boosting and entertaining features all at SprintSpeed™," said Danny Bowman, vice president of customer equipment for Sprint. "As the first provider of this unique phone, Sprint is demonstrating its commitment to giving customers the best products and service available on the Sprint Mobile Broadband Network, the fastest and largest national mobile broadband network."(4)
Additional Palm Centro Features and Benefits
Superior Phone – Centro's touch screen and keyboard, combined with the simplicity of Palm OS, make it easy to use key features such as one-touch speakerphone, conference calling, ignore a call with text messaging and Bluetooth connectivity.
Easy Text Messaging – Centro's full keyboard makes typing out complete messages fast and easy when sending text, pictures, audio and video clips. Plus, Centro keeps all your conversations in a chat-style view, just like IM, so you can see the entire conversation unfold.
Personal and Corporate Email – New users to the smartphone category now have an easy mobile email solution using Microsoft Direct Push Technology(5) for delivery of Outlook email as well as personal email, such as Gmail, AOL and Yahoo.
IM with AIM, MSN, or Yahoo! – Compose messages quickly and easily with a full QWERTY keyboard. Instant message your buddy list with direct access to Yahoo, Windows Live Messenger or AOL's AIM service.
Web Browsing – Fast and easy web access on the Sprint Mobile Broadband Network at fast EvDO speeds. The full keyboard and touch screen provide quick access to online information. The built-in Google Maps application offers fast access to directions, traffic updates and local search.
Multimedia – "Sideload" songs and manage music easily with Sprint Music Manager. Centro is the first Palm phone to include PocketTunes Deluxe, a $39.99 value. Shoot pictures or video with the built-in digital camera.
More information on Centro is available at http://www.palm.com/centro.
Pricing and Availability
Expected mid-October, the Palm Centro smart device will be available in onyx black or ruby red from all Sprint sales channels, Palm stores and online at http://www.sprint.com and http://www.palm.com/centro for $99.99 with a two-year service agreement, available discounts and promotions(1) and required service plan. Centro customers may subscribe to any of the voice calling plans available on the Sprint Nationwide PCS Network. To take advantage of data capabilities, customers can add any of the available Sprint Power Vision packs, which range from $15 to $30 per month. Customer subscribing to any Power Vision pack plan of $25 or more per month will be eligible for the $100 mail-in-rebate offer. For delivering Centro users the ultimate value, Sprint recommends the Power Vision Pro Pack for $30 month, which includes unlimited text messaging, data access, web browsing, email, Sprint Picture Mail/Video Mail, On Demand, NFL Mobile, Sprint TV and Active Sync (data and content access without a Power Vision pack is subject to casual data charges).
Customers can sign up to be notified of availability of Centro from Sprint at http://www.sprint.com/Centro or be among the first to pre-order from Palm at http://www.palm.com/centro.
About Sprint Nextel
Sprint Nextel offers a comprehensive range of wireless and wireline communications services bringing the freedom of mobility to consumers, businesses and government users. Sprint Nextel is widely recognized for developing, engineering and deploying innovative technologies, including two robust wireless networks serving 54 million customers at the end of the second quarter 2007; industry-leading mobile data services; instant national and international walkie-talkie capabilities; and a global Tier 1 Internet backbone. For more information, visit http://www.sprint.com.
About Palm, Inc.
Palm, Inc., a leader in mobile computing, strives to put the power of computing in people's hands so they can access and share their most important information from anywhere. The company's products for consumers, mobile professionals and businesses include Palm Treo™ smartphones and Palm handheld computers, as well as software, services and accessories.
Palm products are sold through select Internet, retail, reseller and wireless operator channels throughout the world, and at Palm Retail Stores and Palm online stores (http://www.palm.com/store).
More information about Palm, Inc. is available at http://www.palm.com.
(1) Available for $99.99 with a two-year service agreement and an additional $50 instant savings and $100 mail-in rebate. To be eligible for the mail-in rebate, customers must sign up for a data plan that is $25+ more per month, such as the Ultimate Pack, the Pro Pack or one of the Phone as Modem plans.
(2) Within wireless service coverage area only. Availability and coverage depends upon carrier and the geographic scope of international roaming agreements. Email, messaging and web access requires data services from a mobile service provider at an additional cost.
(3) IDC, Worldwide Converged Mobile Device 2007-2011 Forecast Update: June 2007, Doc #207324, Jun 2007.
(4) Fastest claim based on total network size (sq. miles) multiplied by network upload/download speed capability. User's speed experience may vary. Largest claim based on total network size (sq. miles). Coverage not available everywhere. See sprint.com/coverage for details.
(5) Requires Exchange Server 2003 with Service Pack 2 or Exchange Server 2007 and access enabled by IT administrator.
Palm, Palm OS and Treo are among the trademarks or registered trademarks owned by or licensed to Palm, Inc. All other brand and product names are or may be trademarks of, and are used to identify products or services of, their respective owners.