World's First PC OLED Display and Worldwide 3G Capability
OQO, Inc., creator of the world's smallest fully-functional Windows Vista PC, announced the new model 2+ with Intel Atom™ processor, the world's first PC OLED display, and worldwide 3G capability. Based on the 1.86GHz Intel Atom processor and 2GB RAM, the OQO model 2+ offers performance up to twice as fast as its predecessor and includes an embedded touchscreen for easier input. For mobile professionals who need to work on the go, the model 2+ features Qualcomm's Gobi™ global mobile Internet solution, which supports both of the world's leading 3G cellular standards. These new features enable users to access their enterprise networks, business productivity applications, and the full Internet around the world. The OQO model 2+ will be available in the first half of 2009 with pricing starting at $999.
"OQO is excited to work with Intel to deliver the highest performing Mobile Internet Device (MID) on the market today," said Bob Rosin, senior vice president of sales and marketing at OQO. "The OQO model 2+ provides enterprise users and prosumers with everything needed to get all their work done as they move through their day — full Windows, complete mobility, and immediate access to information and applications from wherever they are."
"The Intel Atom processor is rapidly becoming the foundation for Mobile Internet Devices that require high performance and full Internet to run the broad set of enterprise and consumer applications," said Gary Willihnganz, director of marketing for the Ultra Mobility Group at Intel Corporation. "The OQO model 2+ is an excellent example in the Productivity MID category which combines the high performance, low power characteristics of Intel Atom with OQO's proven system-level innovation in delivering small, pocketable devices."
The new OQO model 2+ is the world's first PC with an embedded Organic Light-Emitting Diode (OLED) display. Users will immediately notice the screen's dramatically increased brightness and contrast with better outdoor readability, greater range of colors, extremely wide viewing angles, faster response time, and improved battery life. The integrated touchscreen is more robust and accurate than conventional touchscreen technology and supports stylus as well as finger-based input.
Key new features of the OQO model 2+ include:
Twice as Fast1
Available with 1.86GHz Intel Atom Z540 CPU offering up to 2x improvement in processor-intensive tasks, and up to 5x improvement in multimedia performance
Intel System Controller Hub US15W with integrated 3D graphics
DirectX 9 and H.264 video decode support in hardware
2GB RAM with 2.7x improvement in memory performance
Up to 20% increase in battery life (3.5 hours with standard battery, and 7 hours with double capacity battery)
Vivid and intuitive interface
World's first PC with integrated Active Matrix OLED display
1,000,000 to 1 contrast ratio, color gamut up to 110% of NTSC, 0.01ms response time, and viewing-angle free
Embedded high-grade touchscreen for stylus and finger-based input
Native resolution of highly-readable 800×480 with 1024×768 and 1000×600 interpolated modes
World-capable
Featuring Qualcomm's Gobi solution, the industry's only embedded multi-mode module with support for CDMA2000 EV-DO and HSPA
Designed to operate on Verizon Wireless and Sprint networks using Qualcomm's hybrid mode alternative solution as well as SIM-based networks including GPRS/EDGE, UMTS, and HSPA with speeds up to 7.2Mbps
Penta-band antenna for world coverage
Verizon Wireless customers can roam internationally on the Vodafone network
World keyboard and global power supply
Eco-friendly
RoHS compliant (reduced mercury, lead, cadmium, and other hazardous materials)
Ultra low power consumption
Secure
Computrace support in BIOS for asset tracking and recovery and remote data delete
LoJack for Laptops™ support
TPM v1.2 embedded security
Affordable for every professional segment
Pricing starts at $999
Like its predecessor, the OQO model 2+ weighs less than one pound and is truly pocketable with dimensions of 5.6″(W) x 3.3″(H) x 1.0″(D) and the best-in-class integrated backlit thumb keyboard. The model 2+ supports large external displays up to 1920×1200 with HDMI/DVI and VGA interfaces, offers Wi-Fi 802.11a/b/g and Bluetooth 2.0 with EDR, and is compatible with the full range of OQO model 02/e2 accessories. These include the OQO docking station with embedded dual layer DVD+/-RW/RAM drive, as well as a wide range of cases, GPS and vehicle mounts, and power solutions including standard and extended batteries and the OQO air/auto power adapter.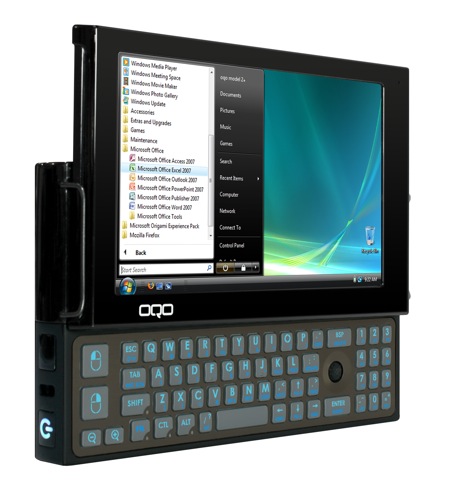 Full specifications of the OQO model 2+ are available at: http://www.oqo.com/products/model2+/specifications.html
OQO pioneered the ultra mobile PC category and has led the market with each innovation. With today's announcement, OQO has further established its commitment to leading this growing category and providing mobility solutions for worldwide markets.
With pricing starting at $999, the OQO model 2+ is available to order immediately from OQO and through OQO enterprise, government, and retail sales channels listed at http://www.oqo.com. First deliveries are expected to take place during the first half of 2009.
About OQO
Based in San Francisco, California, OQO, Inc. has redefined mobile computing with its groundbreaking products, including the new ultra-small, powerful, ergonomic, and connected OQO model 2+. With an award-winning design, the OQO model 2+ is a full-featured computer running standard Windows XP or Windows Vista and a pocketable, dockable form-factor that gives the mobile professional true Anytime/Anywhere Productivity™.
"OQO", the OQO logo, and "Anytime/Anywhere Productivity" are trademarks of OQO, Inc. Other trademarks are the property of their respective owners. © 2009 OQO, Inc. All rights reserved.
1 Benchmarking data based on tests using MobileMark 2007 version 1.05 and SiSoftware Sandra 2008. Comparisons are to the OQO model 02 computer.