Dustproof, Splashproof DSLR with Dual Axis Swiveling LCD Monitor Offers Sharp Image Quality, High Definition Video and In-Camera Creative Features–Even in the Most Extreme Environments
Olympus announced the E-5, a new digital single lens reflex (DSLR) camera which achieves the highest image quality of any Olympus camera–with astonishing detail, blazing speed, and true-to-life color. New options include user control in Art Filters and 720p HD Video. Plus with its weatherproof design, the rugged E-5 can go anywhere.
Superior Image Quality: The E-5 camera achieves the highest image quality of any Olympus camera by pairing a 12.3 megapixel High-Speed Live MOS Sensor with a TruePic V+ image processing engine that boasts new "Fine Detail Processing" technology for greater detail in the photograph. Optimized to maximize the performance of the Zuiko® Digital Lenses, Fine Detail Processing takes digital photography to the next level.
270 Degree Swivel LCD: A 3.0-inch dual axis swivel HyperCrystal® LCD with 920,000 dots makes it easy to frame High Definition (HD) videos and still images at any angle from low to high and side to side to ensure accurate composition.
Limitless Creativity: Ten in-camera Art Filters including new Dramatic Tone round out this DSLR's impressive feature set. For the first time, photographers can use Art Filters in all shooting modes, program auto, shutter priority, aperture priority and manual modes and movies with expanded control. Both still and movie capable, the E-5 camera offers HD video in an E-System DSLR for the first time.
Image Detail
The E-5 camera produces clear and colorful photos using all the pixel information at an individual pixel level to provide the best digital images possible. The increased detail is due to the new Fine Detail Processing technology, utilizing a sophisticated algorithm to deliver all the information from each pixel for greater detail than shots taken on other cameras with the same number of pixels. The image processor is noted for accurate natural color, true-to-life flesh tones, brilliant blue skies and precise tonal expression; it also lowers image noise in photos shot at higher ISO settings (ISO 100 to ISO 6400), enabling great results in low-light situations.
To prevent image blur caused by camera shake, the E-5 camera employs in-body Mechanical Image Stabilization to compensate for camera movement up to 5 steps EV and delivers blur-free images taken with any of the ZUIKO® DIGITAL lenses available for the camera. Moreover, built-in Image Stabilization works with not only long focal length lenses, but with wide, ultra-wide and even fisheye lenses, permitting long exposures during low-light and night scene settings with sharp, stabilized results.
720p/30fps High Definition Video
The E-5 camera captures all the action in crisp 720p HD video at 30 frames per second. With more than 20 Four Thirds® lenses, people can shoot video with a selection of lenses ranging from an extreme wide-angle fisheye lens to a super telephoto lens for a variety of expressive options. Photographers can capture great stereo sound quality by plugging any microphone with a standard 3.5mm jack into the camera's stereo microphone terminal. A built-in microphone also records clear monaural audio.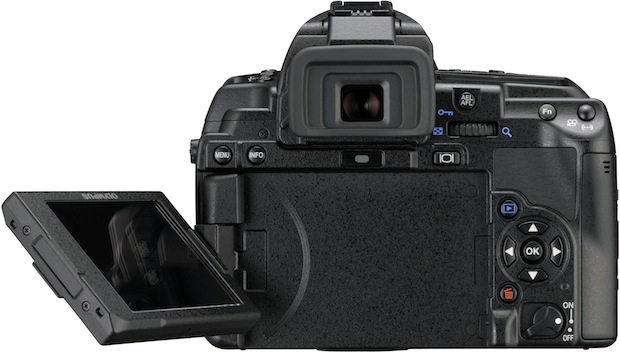 3.0-inch dual axis swivel HyperCrystal® LCD
The E-5 camera's 270 degree dual axis swivel 3.0-inch Live View LCD covers all the viewing angles from low to high and side to side, ensuring accurate composition and providing opportunities for creativity. Real-time image monitoring of white balance and exposure enables greater creative control of settings. The LCD displays 920,000 dots in vivid color and includes HyperCrystal® technology, which offers many times the contrast of conventional LCD monitors for easier viewing in both preview and playback modes. It also provides a wide viewing angle ensuring that images can be composed from even the most obscure angles.
Durability and Reliability
The E-5 camera's sealed lightweight "thixomold" magnesium alloy chassis is completely splashproof and dustproof for optimal performance with pro lenses on expeditions to the most extreme environments on the planet. A durable shutter mechanism with the lifespan of 150,000 exposures meets the demands of serious photographers. The E-5 camera's large optical viewfinder provides a 100 percent accurate view to ensure photographers do not miss a shot.
The E-5 camera also features an award-winning built-in Dust Reduction System that eliminates spots from photos with the exclusive Supersonic Wave Filter. The patented ultrasonic technology physically vibrates to remove dust and other particles from the front of the image sensor, and captures the debris on a special adhesive membrane every time you turn on the camera. It can even remove dust attached by intermolecular force that cannot be removed by physical vibration or by discharging static electricity. These spot-free photos liberate users from hours spent retouching photographs at the computer or sending their cameras back to the manufacturer to remove dust trapped inside.
Unlimited Creativity
Olympus pioneered easy-to-use in-camera art filters for still images captured inside its E-System DSLRs. It was the first company to offer the ability to apply art filters to HD video recordings captured with the PEN® E-P1 camera. Now, the E-5 camera continues this tradition of innovation with 10 user controllable in-camera art filters, including one new filter: Dramatic Tone.
The Dramatic Tone art filter represents real space in a more imaginary way by applying unrealistic tones of light and darkness based on local changes in contrast. This new filter is a welcome addition to the Pop Art, Soft Focus, Pale & Light Color, Light Tone, Grainy Film, Pin Hole, Diorama, Cross Process and Gentle Sepia filters previously available on the E-30, E-620 and PEN® series cameras.
For the first time, photographers can use Art Filters in all shooting modes: shutter priority, aperture priority, manual and program auto modes for expanded control. The filters can all be applied to both still shots and Standard Definition or HD movies. Whether you're a videographer, documentarian or established director — or just want to shoot like one — Art Filters set your images and videos apart from the pack. Since they're built into the camera, you can achieve dramatic results on the go without the need for computer or editing software.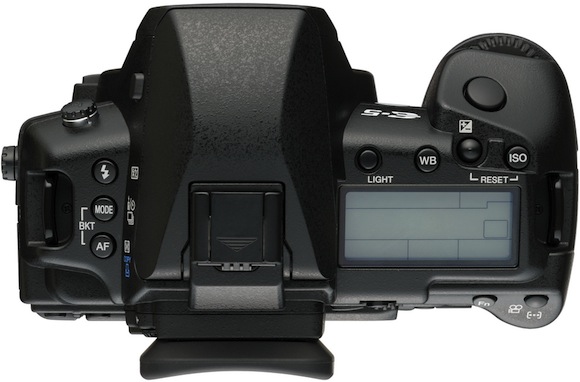 With the E-5 camera's Multiple Exposure function for still image capture, you are free to tell a visual story your way, whether in portrait or landscape orientation, or a combination of both. The image capture options allow you to combine four shots. Shoot one shot, then another and combine them in real time, or capture two to four shots separately and combine them in the camera later.
The E-5 camera is also equipped with an internal Digital Level Sensor that detects the camera's pitch and roll with indicators in the optical viewfinder, on the control panel and during Live View operation. This Digital Leveler is a tremendous benefit for architectural photographers who must ensure that images they take of buildings are as centered and true as the walls of the buildings themselves. Rather than spend time rotating an image in computer software, you can use the camera's Digital Leveler to make sure your subjects are where they should be in the frame.
Whatever you create, it will be easy to display on the big screen. When you're ready to share your work, just plug the E-5 camera into any HD television using the camera's HDMI output with an HDMI cable and show it off.
Performance
Besides its direct access buttons for quick access to camera menus, the E-5 camera offers the fastest AF speed in the world when coupled with the ZUIKO® DIGITAL ED 12-60mm f2.8-4.0 (24-120mm equivalent) Supersonic Wave Drive Lens to ensure fast focus for clear, sharp photos 1. The E-5 camera has a Twin cross type (fully biaxial) 11-point AF sensor, based on proprietary Olympus micro-sensing technologies that achieve equally effective performance on both the vertical and horizontal axis. With most biaxial sensors, performance on the vertical and horizontal axes is not equal, and there is often a perceived difference in response time when using different lenses. However, unlike systems that respond at nominally lower f-stop values simply by boosting sensitivity, the E-5 camera's AF sensor features a houndstooth pattern phase detection sensor layout that uses micro-lamination technologies to achieve superior real-world performance. The 11 AF target points on the E-5 can be selected to work individually or dynamically in combination with adjacent target points.
The E-5 camera also features five frames-per-second continuous shooting and a 1/8000 second top shutter speed required for shooting situations when you are capturing fast-moving subjects.
Wireless Flash Control
The E-5 camera is compatible with a range of optional external flashes, including the Olympus FL-36R and FL-50R. The E-5 camera can control both of these flashes wirelessly so you can dynamically control lighting as your photography skills grow. The E-5 camera features a commander function incorporated in its built-in flash, making wireless multi-flash photography possible without using an outside commander. The E-5 camera can control up to three wireless flash groups independently, and control of multiple flashes is possible even in an environment in which both the FL-50R and FL-36R are used simultaneously. In addition, the E-5 camera's Super Control Panel display makes it possible to enter and check all of the selected items on the LCD. This ensures excellent operability and mobility.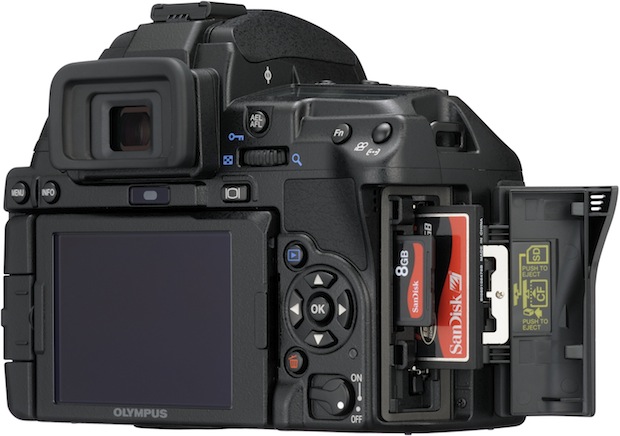 Memory
Accepting both CompactFlash Type I UDMA and SD cards (SDHC/SDXC compatible), the camera provides a choice of data storage options for enhanced flexibility, and it is possible to transfer image files from one card to the other right inside the camera. Class 6 or higher SD cards are recommended for optimal movie shooting.
Pricing and Availability
The Olympus E-5 camera will be available in October 2010 for $1,699.99. It includes the E-5 Body, USB Cable, Video Cable, Li-Ion Battery Pack (BLM-5), Li-Ion Battery Charger (BCM-5), Shoulder Strap, OLYMPUS software CD-ROM, Manuals and Registration card.