Okoro Media Systems, manufacturer of Digital Entertainment Systems for the high end audio video market, is excited to introduce the availability of the 2010 OMS-BX300 64Bit Digital Entertainment System. The 2010 OMS-BX300, part of the OMS Next Generation Series, has a new form factor, updated storage options and solid state drive technology. Designed for serving HD content throughout the home, the BX300 now features enough horsepower to easily stream four different HD streams while recording and playing back HD content simultaneously.
"Since the first BX300 was released in 2006, our customers have come to expect and hunger for a system that can provide the greatest performance when they are playing the latest Blu-ray movie. They do not want to be limited while recording and streaming HD multimedia content to multiple zones." says Christopher Curry VP of Sales and Marketing.
The 2010 OMS-BX300 is built utilizing Intel Core i7 technology enclosed in an all new brushed aluminum chassis design. This new design allows for hot swappable two 2TB hard disks that can be mirrored for extra storage protection. The machine can also playback of 1080i/p HD content from its dual Blu-ray drives or HD content from its dual HD tuners.
The OMS-BX300 is now shipping and has the following standard specifications:
Intel i7 920 Processor
6GB 1333Mhz DDR3 Memory
64GB Solid State OS Drive
Dual Blu-ray Drives
ATI™ Radeon HD 4850 w/ 7.1 LPCM Audio via HDMI
Windows Vista Ultimate 64Bit w/ Free Upgrade to Windows 7 Ultimate 64Bit
Choice of ATI Digital Cable Tuners, ATSC/QAM, or HDPVR for HD Satellite TV Recording
Also Okoro Media System will be giving away one Special Edition "Cherry Red" Digital Entertainment System to one lucky individual.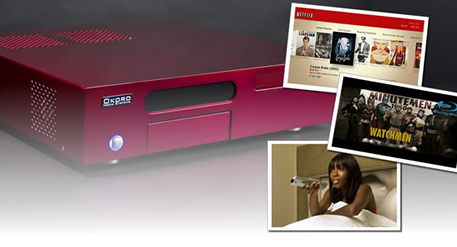 Here are the specs for the system:
"Cherry Red" custom automotive paintwork with clear coat finishes
Intel Quad Core Processor
8GB of Memory
Blu-ray/HD-DVD Combo Drive
64GB Solid State HD for OS
2 TB of Media Storage
Windows 7 Home Premium 64Bit
The contest will begin August 17, 2009 and the entry period will last until September 30, 2009.