Norcross, Ga. – Octava Inc., specialists in HDMI solutions, announced the release of the 4×4 HDMI Matrix Switch. The 4×4 HDMI Matrix Switch enables users to switch 4 multiple HD sources to 4 HD Displays in any 256 combinations.
The 4×4 HDMI Matrix features 4 HDMI inputs, 4 HDMI Outputs, RS-232 control and fits in a 1RU rack mount housing for professional installations. The 4×4 HDMI Matrix is the ideal video distribution switch for "whole home" installations with multiple HDTVs and can be easily controlled by I.R. remote, manual push button or RS-232.
The 4×4 HDMI Matrix supports 1080P HD resolutions.
HDMI is the latest standard for distributing High Definition Digital Video and Audio in high def displays for 2 reasons: 1) uncompressed digital format ensures the best picture quality and 2) HDMI allows content providers to ensure that their intellectual property is protected through HDCP.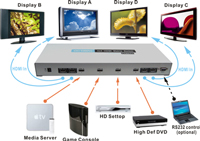 More Info at: www.octavainc.com