Nokia today announced the Asha 302, their first Series 40 smartphone to support Mail for Exchange, giving people access to their emails, contacts and calendar on an exchange server. That and a stylish QWERTY keyboard make it ideal for young entrepreneurs and professionals seeking a beautifully designed phone. Additionally, the Nokia Asha connects to popular social networks and enables chatting through Whatsapp and other IM services.
The Nokia Asha 302 is powered by a 1-GHz processor and supports 3.5G data speeds. It has a 3.2-megapixel camera with 4X digital zoom, enhanced stereo FM radio, a music player and up to to 32GB memory card support.
The Asha 302 manages all your business emails and synchronize all your contacts and calendars — while still staying connected to all your favorite social networks, and Facebook through Nokia Social which lets you view all your feeds, and post updates, right from your home screen. The Nokia Browser makes accessing the Internet a faster by compressing pages before they are downloaded.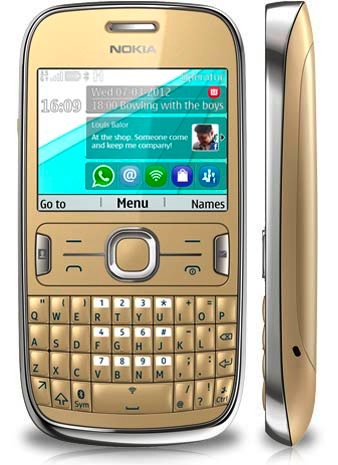 Features:
Dimensions: 115.2 mm x 58.9 mm x 13.5 mm
Weight: 106 g (including battery)
Standby time: Up to 29 days (GSM); Up to 34 days (WCDMA)
Talk time: Up to 9 hours (GSM); 5.9 hours (WCDMA)
Memory: Up to 140 MB internal memory,
support for up to 32 GB microSD memory card
WIFI connectivity where available
Price and Availability
The Nokia Asha 302 is available now for about EUR 95 in dark grey, mid blue, plum red, white or golden light.