Nokia's First Phone With Internal FM Radio Antenna
Nokia today announced the arrival of new Nokia Music Stores, more Comes With Music launches and three new music devices. The Nokia 5730 XpressMusic, Nokia 5330 XpressMusic and Nokia 5030 bring people's music to life with features that give music lovers around the world easy access to the music they love. By expanding the music range to different price points, introducing more markets with Comes With Music service and the Nokia Music Store as well as making the integration of these elements as easy as possible, on both on the mobile device and the PC, Nokia is changing the way music is enjoyed. The digital music player that rings in your pocket is also the library, the shop and the platform to manage all your music.
Nokia 5030
Nokia 5030 is the company's first phone with an internal FM radio antenna, which eliminates the need for a headset or external speakers. The one touch FM radio and channel selection keys on the side of the device ensure the product lives up to its XpressRadio name. Placed sideways on the table, the Nokia 5030 doubles as a portable FM radio and is ideal for emerging markets, where people rely on a radio as their main source of entertainment and news. The Nokia 5030 has up to a day of listening time and 10 hours of talk time, which comes to life with the powerful loudspeaker, and is available in two colors – graphite and red.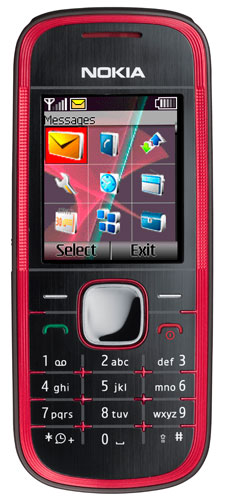 One of Nokia's most affordable devices to offer an FM radio, the Nokia 5030 is expected to begin shipping in the second quarter of 2009 with an estimated retail price of less than 40 EUR, before taxes or subsidies.