Nikon's New Wide-Angle Lens Allows Photographers To Control Perspective
Nikon, Inc., today introduced the new PC-E NIKKOR 24mm f/3.5D ED lens, the latest in a series of lenses that are equipped with a tilt/shift mechanism that enables photographers the flexibility to effectively manipulate perspective, distortion and focus. Whether photographing architecture, landscapes, interiors or panoramas, this Perspective Control (PC) lens easily corrects linear distortion and aberration to deliver images that more accurately reproduce the view as the human eye sees it.
"Nikon optical engineers successfully overcame a number of design challenges while developing a new 24mm Perspective Control wide-angle lens that delivers in a variety of applications and fulfills the needs of photographers whose work demands the type of image control that only a lens of this design can provide" said Edward Fasano, general manager for Marketing, SLR System Products at Nikon, Inc. "This lens represents a significant addition to the field-proven NIKKOR lens lineup and allows photographers to create images that would, in many instances, not be possible otherwise. Additionally, many photographers will appreciate the ability to more effectively correct images while shooting, significantly reducing the time required to correct images afterwards with image editing software."
Typically, tilting the axis of a camera can result in a misrepresentation of perspective. A Perspective Control lens' ability to fine-tune perspective and focus elements virtually eliminates these issues, an essential function for architectural and interior photographers.
The same features that make this lens excellent for architectural photography also provide nature and landscape photographers with an essential means to better control perspective, allowing them to capture nature's beauty more accurately and naturally. Additionally, the 24mm PC lens enables professional product photographers to sight just the right shooting angles on reflective objects without capturing their own reflection in the process.
A special tilt/shift mechanism gives users up to +/- 11.5 mm shift and +/- 8.5-degree tilt for perspective control. When shooting with a conventional lens, some objects, such as tall trees and buildings, can be challenging to photograph due to rectilinear distortion and converging lines that warp perspective. The 24mm Perspective Control lens corrects this issue with convenient side-mounted controls at 1mm / 1-degree intervals that will adjust the focal plane with shift and tilt adjustments. The lens optics can also be rotated up to 90 degrees right or left for perspective control adjustment, while a click-stop is provided every 30 degrees. Importantly, photographers can see the effect of every adjustment accurately through their Nikon SLR viewfinder.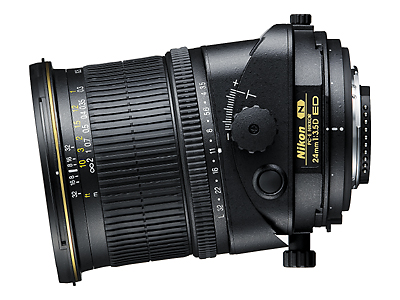 In addition to providing linear perspective correction, the new 24mm PC lens has unique characteristics that make it well suited for a variety of tasks and offers a wide angle-of-view combined with dramatic depth-of-field control potential, perfect for capturing stunning landscapes. To further control the image, users can quickly adjust aperture with a stop-down button, or with the aperture ring. These same characteristics also make the 24mm PC lens a great choice for close-up macro work, with a minimum focusing distance of 0.7 feet and the ability to fine tune focus with perspective control.

The PC-E NIKKOR 24mm f/3.5D ED lens continues NIKKOR's legacy of high-quality optics and durable design. It features the new "E" designation, which denotes an electromagnetic diaphragm that automatically controls aperture with the latest Nikon D-SLR cameras. Three Extra-low Dispersion (ED) glass elements provide superior sharpness and color correction by effectively minimizing chromatic aberration, while three aspherical lens elements minimize various types of lens aberration. In addition to the Nikon Super Integrated coating that delivers superior color reproduction, Nikon's exclusive Nano Crystal Coat helps to virtually eliminate any remaining instances of ghosting and flare.

The PC-E NIKKOR 24mm f/3.5D ED lens is the first in a new series of PC lenses being designed to meet the needs of photo professionals and enthusiasts. Two more PC lenses are currently in development and are scheduled to become available through Nikon authorized dealers during the summer of 2008.

The NIKKOR 24mm f/3.5D ED lens is scheduled to become available through Nikon authorized dealers in the U.S. in spring 2008 for an estimated selling price of $1929.* For more information, please visit www.nikonusa.com.

About Nikon
Nikon, At the Heart of the Image™. Nikon Inc. is the world leader in digital imaging, precision optics and photo imaging technology and is globally recognized for setting new standards in product design and performance for its award-winning consumer and professional photographic equipment. Nikon Inc. distributes consumer and professional digital SLR cameras, NIKKOR optics, Speedlights and system accessories; Nikon COOLPIX compact digital cameras; COOLSCAN digital film scanners; 35mm film SLR cameras; Nikon software products and Nikon sports and recreational optics. Nikon D Series digital SLR cameras are recognized as "Highest in Customer Satisfaction with Digital SLR cameras," according to the latest J.D. Power and Associates 2007 Digital Camera Satisfaction Study. Nikon Corporation, the parent company of Nikon Inc., recently celebrated its 90th anniversary and announced the production of over 40 million NIKKOR SLR interchangeable lenses. For more information, dial (800) NIKON-US or visit http://www.nikonusa.com, which links all levels of photographers to the Web's most comprehensive photo learning and sharing communities.

* Estimated selling price listed is only an estimate. Actual prices are set by dealers and are subject to change at any time.
For J.D. Power and Associates award information, go to https://www.jdpower.com

<!-comments-button-->