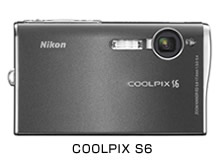 Two digital compacts packing new photo-sharing entertainment into attractive wave-surface designs.
Nikon Corporation is pleased to announce the introduction of the COOLPIX S5 and COOLPIX S6. Two exciting new cameras built for the sharing of digital photographic enjoyment, they combine high-quality imaging performance with impressive wave-surface design, enable images to be improved in-camera, feature outstandingly large LCDs and introduce the powerful Pictmotion function that allows users to create entertaining in-camera shows.
Available for the very first time, the Pictmotion function lets users create so much more than a slideshow — in fact, it's an imaginative function offering totally new in-camera entertainment. Allowing users to select favorite image and movie files, pick a style, and then select a music file from one of 5 pre-installed in the camera, or even add their own music (via PictureProject for Windows only) to suit the show, Pictmotion automatically analyzes all the aforementioned elements to produce highly entertaining shows with pace and transition selected to match music and style. These shows can then be played back anywhere, anytime on the ample-sized LCD monitors (COOLPIX S5: 2.5-inch; S6: 3.0-inch), and because each of these monitors offers a surprisingly wide viewing angle of 170° (both horizontal and vertical), such in-camera entertainment can be enjoyed by everyone at the same time. Both cameras also feature Auto Image Rotation, which detects pictures that have been taken with the camera held vertically, automatically rotating them to suit in-camera LCD playback.
With the COOLPIX S5 and S6, image quality is also pleasingly high. Both cameras offer a 1/2.5-inch CCD and 6.0 effective megapixel resolution to produce images that stay sharp even when significantly enlarged. They also each feature a superior quality 3x Zoom-Nikkor ED lens with a range of 35-105mm (35mm equivalent) that gives the photographer the freedom to zoom out for beautiful landscapes, zoom in for tightly composed portraits, and enjoy macro photography from as close as 4cm.
Both the COOLPIX S5 and S6 have been specially designed to be highly appealing as well as easy to use. More than merely having great styling, the eye-catching wave-surface designs with thin, compact dimensions make the COOLPIX S5 and S6 feel more comfortable in the hand. And in terms of control, they also feature a new Rotary multi selector that allows fast circular scrolling for speedy image browsing at up to 10 frames per second. The Rotary multi selector also features a range of buttons that further simplify operation, while an on-screen icon with a cursor that tracks circular scrolling makes it easy to select desired features. Furthermore, users can choose to select functions by name or icon according to their preferences, and all menus and icons have been made easier on the eye with a new color scheme and optimized icon dimensions.
The COOLPIX S5 and S6 also feature a new One-touch portrait button conveniently located at the top of the camera body that makes it much simpler to take better quality pictures by offering easy access to Nikon's unique Face-priority AF, In-Camera Red-Eye Fix and D-Lighting functions. With Face-priority AF*, the cameras can automatically detect people's faces in the frame, no matter where they are located, to produce sharply focused portraits. In-Camera Red-Eye Fix can detect the unfortunate red-eye effect that can sometimes happen in flash photography, then automatically compensate for it in-camera to produce more flattering results. D-Lighting (available in playback mode) enables users to improve images that are underexposed or taken with too much back light — creating a copy of the image with light and detail added where necessary and well-exposed parts left exactly the way they were.
The COOLPIX S6 delivers the additional advantage of Wi-Fi capability. Offering IEEE 802.11b/g support, it allows users to send images wirelessly to a computer as soon as they are taken or to transfer all images stored in memory to computer in one go. The COOLPIX S6 even supports cable-free printing**, enabling images to be sent directly to PictBridge-compatible printers without the need to use a computer at all.
A selection of 15 Scene modes — 4 with Scene assist — lets users of the COOLPIX S5 and S6 achieve pleasing results with clear focus and optimal exposure in diverse situations. All the user has to do is select the Scene mode best suiting the scene and then compose the shot, while the camera automatically selects the most appropriate settings.
Three movie modes with sound are also available for capturing action at up to a smooth 30 frames per second. Both cameras also feature Time-lapse movie shooting ability that allows dramatic results to be created out of slow-moving action, such as when shooting a flower blooming or creating a movie of clouds rushing across the sky, for example.
The COOLPIX S5 and S6 even speed the search for recorded images with the Calendar function that automatically sorts images according to the date they were taken. And for further versatility, the COOLPIX S5 and S6 come complete with the COOL-STATION MV-14 and MV-15 respectively, which allow batteries to be recharged while they are still in the camera, offer USB connectivity and can even be hooked up for TV display.
Furthermore, the COOLPIX S5 and S6 come bundled with Nikon's complimentary PictureProject software. Now featuring special Wi-Fi functions for use with the COOLPIX S6, PictureProject makes it easy to edit pictures, organize shots and share images, while a range of available plug-ins lets users extend capabilities as they like.
* Face recognition capability may be limited in some shooting conditions.
** Requires optionally available Wireless Printer Adapter PD-10.
Note: Specifications, design, color, product name, standard accessories, and release schedule may differ by country or area.
Nikon COOLPIX S5/S6 Feature Highlights
Pictmotion with high-quality music
Nikon's new Pictmotion is much more than a simple slideshow function. Available on both the COOLPIX S5 and COOLPIX S6, it allows you to select your favorite images and movie files, then pick a style and add a music file of your choice from among 5 pre-installed ones, or load your own choice of music* to suit the images. The COOLPIX S5 and S6 then automatically analyze each element to produce an entertaining show with pace and transitions determined by music and style for in-camera viewing anywhere on the generous LCD with an impressive 170° viewing angle that makes it easy for everyone to see. Furthermore, to heighten enjoyment of audio elements, both cameras also feature a large speaker that delivers heightened sound pressure and a sampling frequency increased from 8 to 22kHz that makes for noticeably enhanced sound clarity.
* Via PictureProject for Windows only.
Eye-catching wave-surface design
Both the COOLPIX S5 and S6 have been created with a unique wave-surface design that is both esthetically appealing and very comfortable in the hand. They are also available in an attractive range of colors (availability may vary by country or region), with each exterior combining a range of attractive textures comprising a high-grade glossy main aluminum body with elements of protective acrylic, resilient stainless steel and silicone paneling.
Large LCDs
The COOLPIX S5 and S6 feature large 2.5-inch and 3.0-inch 230,000-dot TFT LCDs respectively. Such generous size does away with the need for a viewfinder and makes for easier composition. Both LCDs also offer an impressive 170° viewing angle that makes it easy for everyone to enjoy the playback of still images, movies and entertaining Pictmotion shows anywhere, at any time.
Rotary multi selector and improved GUI
Operation has been made smoother, simpler and faster. A new Rotary multi selector incorporated into the camera back enables high-speed image browsing with circular scrolling action at up to 10 frames per second, while a range of buttons built into the Rotary multi selector make for more intuitive operation. There's also an on-screen icon with a cursor that tracks Rotary multi selector scrolling to make function selection even simpler still. The COOLPIX S5 and S6 also feature various screens and menus created with a color scheme that's easier on the eye, functions can be selected by the user's choice of name or icon, and all icons have been optimized and made clearer for easy viewing.
Built-in Wi-Fi
The COOLPIX S6 features the additional advantage of built-in Wi-Fi capability to add further enjoyment and flexibility to digital photography. Providing IEEE 802.11b/g support, it enables individual images to be wirelessly transferred to computer as soon as they're recorded, allows all stored images to be sent to a computer simultaneously and also supports cable-free direct printing* with PictBridge-compatible printers.
* Requires optionally available Wireless Printer Adapter PD-10.
One-touch portrait functions
A standalone One-touch portrait button is conveniently located on the top of the COOLPIX S5 and S6, giving direct access to three innovative Nikon features for in-camera improvement. Face-priority AF automatically finds and then focuses on people's faces no matter where they are in the frame for pleasingly sharp portraits time after time. In-Camera Red-Eye Fix can automatically detect the annoying red-eye effect that sometimes occurs in flash photography, then compensate for it in-camera to give natural-looking portraits. And D-Lighting can improve underexposed images or shots taken with too much back light by creating a copy with light and detail added wherever necessary and well-exposed areas kept exactly as they are.
Nikon COOLPIX S5/S6 Other Features
Highly compact dimensions of (W x H x D) S5: 93 x 59 x 20mm (3.7 x 2.3 x 0.8 in.); S6: 100.5 x 60 x 21mm (3.9 x 2.4 x 0.8 in.)
Carry-anywhere light weight (without battery and memory card): S5: Approx. 135g (4.8 oz.), S6: Approx. 140g (4.9 oz.)
S5: 21MB (approx.), S6: 20MB (approx.) of internal memory, SD Card compatibility
BSS (Best Shot Selector) identifies and saves the sharpest shot automatically from ten sequential shots
Exposure BSS automatically selects and saves the shot most closely matching user-selected criteria from five sequential shots
USB connectivity supports easy transfer of data to computers and other peripherals
Swift startup of approx. 0.8 seconds; Continuous shooting at up to 2.2fps
Date Counter visually records countdown of days to an occasion or number of days since an important event
Help Button provides easy-to-understand explanations for functions on main menu
Blur Warning informs user after shooting if an image is blurred
Menu available in a choice of 20 languages
Noise Reduction produces better results during low-light conditions
Time zone function enables the camera clock to be set to local time, anywhere in the world
4x digital zoom extends compositional freedom
Rechargeable EN-EL8 Li-ion Battery (supplied) can shoot approx. 210 shots (S5)/ 200 shots (S6) on a single charge
Field Jacket FJ-CP1 water-resistant case (optional) lets users keep the COOLPIX dry to underwater depths of 3 meters
Dock Insert PV-10/PV-11 (supplied) enable direct printing to compatible ImageLink printers
Choice of White Balance Auto with TTL control, 6-mode manual (Daylight, Incandescent, Fluorescent, Cloudy, Flash and White Bal. Preset)
Voice recording available for duration of up to 5 hours or until memory capacity is reached