The Ultra-Wide 16-35mm f/4 VR and Ultra-Fast 24mm f/1.4 Lenses Provide Photographers With New Perspectives and Creative Versatility
Nikon just announced two new lenses for professional and enthusiast photographers that epitomize NIKKOR leadership in optical excellence. The highly anticipated AF-S NIKKOR 24mm f/1.4G ED lens is engineered to meet the demand for an ultra-fast professional lens for wide angle applications, while the AF-S NIKKOR 16-35mm f/4G ED VR offers Nikon's widest FX-format focal range with VR, offering additional versatility to a broad range of photographers.
"The 16-35mm f/4 VR and 24mm f/1.4 are two new lenses designed to address the needs of an ever-expanding number of Nikon FX-format photographers, delivering dramatic perspectives, amazing clarity, contrast and color when capturing stills or HD video," said Edward Fasano, general manager for marketing, SLR Systems Products at Nikon Inc. "Customers that choose these new lenses will experience excellent image quality and sturdy handling, which is made possible through our commitment to excellence and expert NIKKOR engineering."
World renowned NIKKOR technologies play an essential role in the design of these two new lenses, and both feature Nikon's exclusive Silent Wave Motor (SWM) technology for quiet, fast and accurate autofocus performance. The optical construction of both lenses also utilizes precision Nikon ED glass elements along with multiple aspherical elements to suppress chromatic aberrations resulting in sharp, high contrast images. Additionally, Nikon's proprietary Nano-Crystal Coat minimizes instances of internal "ghosting" and flaring, further ensuring exceptional image integrity.
The 24mm f/1.4G ED Lens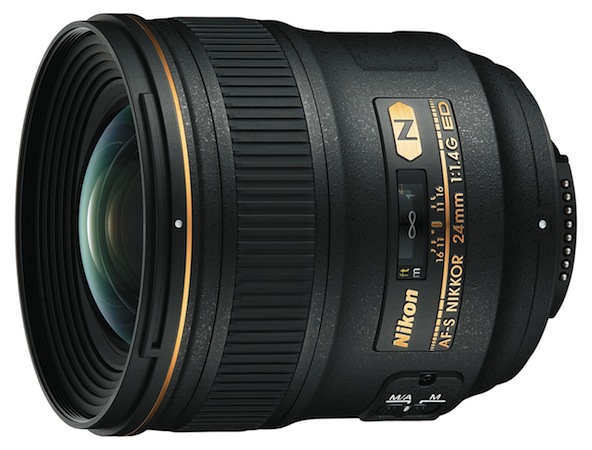 Perhaps one of the most hotly anticipated lenses in recent memory, the new AF-S NIKKOR 24mm f/1.4G ED lens blends a natural yet versatile 24mm perspective with an ultra-fast f/1.4 aperture to expand an existing collection of well over 60 NIKKOR interchangeable lenses. The f/1.4 maximum aperture allows photographers to shoot handheld in low light and provides dramatic separation between subject and a softened background. In a wide variety of photographic situations, both FX and DX-format shooters will enjoy the benefits of extra-bright f/1.4 viewing, superb image quality and the dramatic perspectives afforded by a picture angle of 84 degrees (61 degrees when mounted on a DX-format body).

The 16-35mm f/4 VR Lens Brings a New Perspective to VR (see photo at top of page)
The new AF-S NIKKOR 16-35mm f/4G ED VR lens is an ideal lens for enthusiasts and professionals craving a constant maximum aperture and ultra-wide angle zoom versatility with the benefits of Nikon's Vibration Reduction (VR) II image stabilization. As the widest FX-format NIKKOR zoom lens with VR, users can realize the ability to shoot up to four shutter speeds slower than otherwise possible, expanding low light shooting opportunities and contributing to dramatically sharper handheld photography and video capture. Nikon VR II image stabilization technology is engineered specifically for and optimized to function most effectively for each lens, ensuring optimum performance. Whether joining the growing ranks of FX-format photographers or using the Nikon DX-format, photographers will appreciate the perspectives possible when shooting architecture, interiors, landscapes and more.

Pricing and Availability
The versatile, wide angle AF-S NIKKOR 16-35mm f/4G ED VR is scheduled to be available in late February 2010 at Nikon Authorized Dealers with an estimated selling price of $1,259.95. The ultra-fast AF-S NIKKOR 24mm f/1.4 G ED lens will be available in late March 2010 for estimated selling price of $2,199.95.

<!-comments-button-->