Innovative Product Allows Distribution of High Resolution Video Signals over a Single Cat-6
NextGen is now shipping its groundbreaking new product that allows longer and more-cost-effective runs than ever possible over HDMI cable alone. The NextGen Cat-6 to HDMI Splitter ($299) extends and distributes high resolution video signals over a single Cat-6 cable. This will save an installer time and money while offering unprecedented ability to distribute high quality HDMI performance for up to eight displays.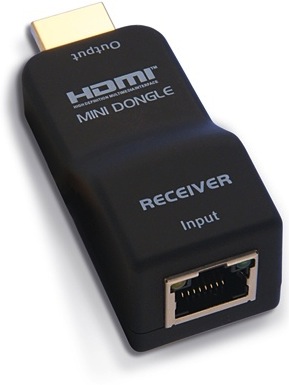 Using the optional Mini Dongle ($49 each), an installer can now simply convert HDMI to Cat-6, send 1080p signals up to 100 feet and then covert back to HDMI. Each Mini Dongle features a gold-plated male HDMI to female RJ-45 connector. Up to eight Mini Dongles can be used on the eight-way splitter to feed high resolution 1080p video to eight separate devices. Installations will be simple, flexible, trouble-free and cost-effective.
"Our HDMI to Cat-6 splitter is not only a time and money saver, it delivers excellent video performance, supporting resolutions up to 1080P and up to 100 feet", explained Bob Dolatowski, President of NextGen. "This is a fantastic solution for a variety of applications, including connecting a projector to the component rack. And we now have them ready to ship."
Key Features
Innovative- extend high resolution HDMI signals over Cat-6 cable
High Performance- distributed signals in properly designed systems are indistinguishable from the original
Cost-Effective- use low cost Cat-6 instead of expensive HDMI cable
Easy to Install- compact size, passive connections require no power
Compatible- supports 1080p and works with all standard HDMI applications
Reliable- stable operation under normal temperature and humidity environments

About NextGen LLC
NextGen is an innovative provider of unique a/v product solutions for the residential and light commercial markets. The company is best known for its award-winning Remote Extender which gives an ordinary remote control powerful RF capability. Founded in 2002 and based in Port Richey, Florida, NextGen designs and builds many of its award-winning products and then markets them throughout the world.