New Lineup of Smartphones and Quick Messaging Phones Offer the Latest in Style and Substance for Mobile Messengers
Text messaging and email are still the 'killer app' for mobile phone data use and AT&T is responding with a great new lineup of phones for the Spring season. AT&T today announced a fresh new lineup of smartphones and quick messaging phones that make it easier for customers to message with friends and family and manage their business and personal lives on-the-go. Arriving in AT&T stores and online at www.wireless.att.com in the coming weeks, these integrated devices add to AT&T's leading mobile phone portfolio.
In the smartphone category, AT&T debuted the Nokia E71x and the Samsung Propel™ Pro, two stylish smartphones that inspire fun, while delivering serious functionality. In addition, the Samsung Impression™ and Samsung Magnet™, and LG Xenon and Neon emerge to the lead AT&T's lineup of quick messaging phones and expands the number of full-keyboard mobile phones in AT&T's lineup to seven.
"Smartphones and quick messaging phones are no longer for early-adopters and text-happy teens," said David Christopher, chief marketing officer, AT&T Mobility and Consumer Markets. "The ability to text often, or check your email from a phone is easy and more customers demand these features. These phones are a great addition to our best-in-class lineup and we can't wait to get them in our customers' hands in the coming weeks."
Nokia E71x
The thinnest smartphone on the market, the Nokia E71x, will be available in the coming weeks for $99.99 and features a black steel finish and award-winning design. The Nokia smartphone, based on S60 on Symbian OS™ offers the Wi-Fi and the flexibility of many Symbian-based applications, in addition to AT&T's most popular services, including AT&T Navigator. The Nokia E71x is just 10 millimeters thin and will turn heads when you text friends, or check your corporate or personal email.
Samsung Propel Pro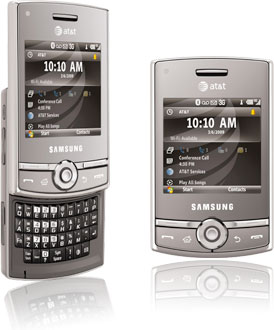 The Propel Pro, a full-QWERTY silver and chrome compact slider smartphone with Windows Mobile 6.1 allows users to run full enterprise applications on the same platform they use to text and send photos. Evolving from the popular Samsung Propel™, business users and consumers looking for a full-feature smartphone with Wi-Fi will look to the Propel Pro, available in April for $149.99.
Samsung Impression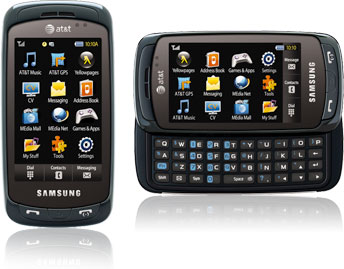 The nation's first commercially available AMOLED (active-matrix organic light-emitting diode) screen results in one of the brightest and clearest displays in the U.S. and is paired with a keyboard underneath an amazingly slim, metallic blue quick messaging phone that's all touch screen on the outside, all buttons on the inside. On sale for $199.99, the Impression has an included 3.0 megapixel camcorder-capable camera, 3.2-inch screen and full browser to maximize every pixel of color.
LG Xenon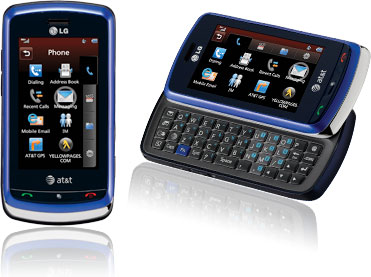 A quick messaging phone boasting a full keypad for text messaging beneath its vibrant colors and large touch screen display with customizable and intuitive user interface, the 3G-powered LG Xenon snaps 2.0 megapixel photos and offers the full suite of AT&T entertainment services such as AT&T Navigator, Napster Mobile, eMusic Mobile, and more. Xenon will be available in three colors: black, blue and red for $99.99. The Xenon is also featured in MTV's upcoming series "The Phone", executive produced by Justin Timberlake.
LG Neon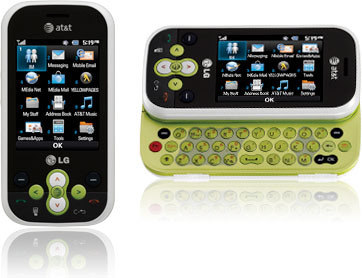 Teens and text-happy adults will enjoy the LG Neon, a low-cost touch screen device available in the coming weeks. The green and white quick messaging phone features a full keyboard, 2.0 megapixel camera, and access to Instant Messaging, Mobile Email, AT&T Music, and the mobile Internet. Check price.
Samsung Magnet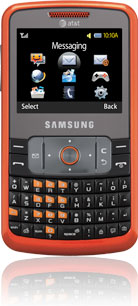 The Magnet is an incredibly slim orange and black bar-shaped device that will appeal to teens who need a low-cost, quick messaging phone. The Magnet features a WAP browser and integrated camera in its sleek package and will be offered at an affordable price in the coming weeks. Check price.
All six devices can be paired with messaging bundles offering 200, 1500, and unlimited messages that cost $5, $15 and $20, respectively. Unlimited messaging is available for AT&T FamilyTalk plan customers for all lines for $30. Data plans vary per device.
Samsung Impression and Propel Pro will arrive in AT&T stores on April 7 and 14, respectively, and the LG Xenon will go on sale on April 8. The Nokia e71x, LG Neon and Samsung Magnet will be available in the following weeks.