Netgear has set a new Wi-Fi performance benchmark for speed at 900 Mbps with their N900 Wireless Dual Band Gigabit Router (model number: WNDR4500), along with improved range.
With up to 50 percent more speed in the 2.4 GHz band than the current generation of 750 Mbps routers, the Netgear N900 can support a full 450 Mbps in both the 2.4 GHz and 5 GHz bands. The Netgear N900's six highly sensitive internal antennas, boosted by ultra-high-power radio amplifiers, provide more WiFi range — and more wireless speed at any given distance — than any other competing home router available today (Netgear claims).
The Netgear N900 includes two USB ports to simultaneously share a printer and a USB hard drive or flash drive across the home network. Saving and retrieving files through the network from a USB drive is up to 30 percent faster (Netgear claims) with the Netgear N900 than any router now on the market, thanks to a more powerful processor.
The router can be quickly configured through a browser on PCs, Macs, smartphones, the iPad and other tablets. A free Netgear Genie utility for PCs and Macs is bundled, offering a simple dashboard for monitoring, controlling and repairing home networks; viewing devices connected to the router through a network map; and accessing many router features.
Netgear Live Parental Controls on the N900 give parents a centralized, flexible and reliable way to establish what web sites their children visit and what times of day they can go online for all devices on the network, including Windows PCs, Macs, smartphones and tablets.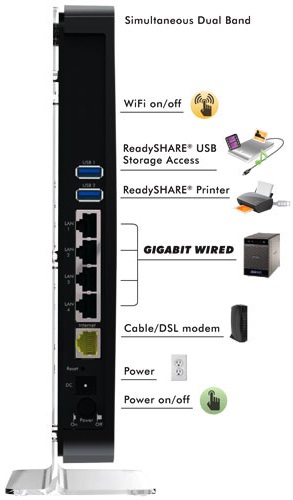 Among the additional premium features of the NETGEAR N900 are:
ReadySHARE Printer — USB printers plugged into the NETGEAR N900 can be accessed by any computer linked to the home network. There's no need to buy a new printer with built-in WiFi to print wirelessly.
Guest network access. Through the browser interface or the NETGEAR Genie utility, it's simple to set up a guest network, so visitors can go online without having to be given the home network password and without gaining access to computers, printers, storage drives and other home-network devices.
DLNA. A USB hard drive plugged into the router becomes a powerful DLNA media server for sharing entertainment content stored on the drive — such as video, music and photos — to DLNA-certified, Internet-ready consumer electronic devices including televisions, Blu-ray players and game consoles.
Advanced Quality of Service. By prioritizing video streams over other home network traffic, advanced Quality of Service (QoS) provides the best possible viewing experience for online video.
Gigabit wired Ethernet. There are four high-speed gigabit Ethernet ports for ultra-fast wired connections.
Security. The router supports WPA and WPA2 protocols for WiFi, has double firewall (SPI and NAT) protection against Internet threats, and provides Denial of Service (DoS) attack prevention.
Scheduled WiFi off. To conserve power, the WiFi radios inside the N900 can be turned off on a custom schedule. In an office setting, for example, WiFi could be turned off automatically during weekends.
Access Point mode. Through the browser interface, the N900 can be set to function as a WiFi access point, which can be connected to any router. This allows the N900 to connect to a gateway from an Internet service provider, for example, to expand household WiFi coverage and significantly increase home network speed among networked devices.
Usage meter. Monitors Internet data consumption and can send customized alerts when usage is close to monthly bandwidth limits, avoiding costly overage fees for those with metered service plans.
Pricing and Availability
The Netgear N900 Wireless Dual Band Gigabit Router (WNDR4500) is available now in the United States at $179.99 and will be available worldwide winter 2012.