NETGEAR today announced the MF100H Femtocell, its second-generation 3G femtocell with Ethernet LAN.
The NETGEAR Femtocell delivers high speed 3G Internet access to mobile handsets and devices. Designed to industry standards-based specifications, the Femtocell is a product that delivers simple plug in and turn installation with very few user options to deal with.
The Femtocell implements 3G UMTS standard lu-h in the network and offers advanced mobile features including WCDMA, a SIM slot, multiple UEs, 3GPP Release 5 DCH at 384Kbps, HSDPA at 14.4 Mbps and HSUPA at 5.76Mbps.
Interoperability of the MF100H femtocell with Nokia Siemens Networks mobile network infrastructure products is planned for near term completion.
With the recent explosion in mobile data traffic, femtocells are ideal solutions for mobile operators that are under pressure to improve the performance of their customers' mobile experience. The small cell radius achieved by femtocells delivers a traffic carrying capacity gain in the range of three orders of magnitude (1000x) similar to WiFi. This enables operators to use their licensed spectrum to smartly serve mobile consumers. In turn femtocells become a key enabler to reduce network load, improve customer experience and add new revenue streams.
Femtocells are also cost effective for MSOs as they enter the mobile space. For mobile customers, voice and data consumption occurs most often at home or in the office. Femtocells can be easily placed at either location using the customers' existing wired broadband for backhaul at near zero network facility cost. This is especially relevant when MSOs use their own DOCSIS services.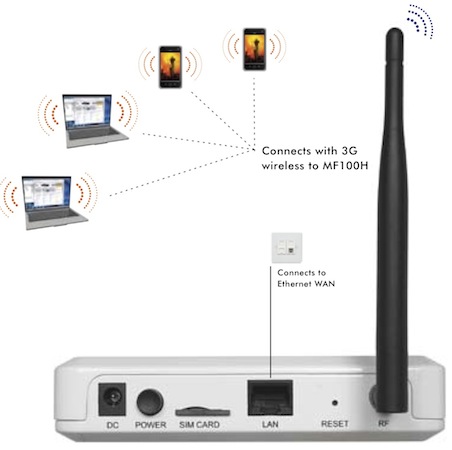 Advanced Features
Extends mobile device coverage into RF dead zones and improves reception in poor coverage areas, connecting mobile devices to the wireless network via Fast Ethernet
Assures highest possible broadband data rates to mobile phones for downloads
Delivers longer mobile device battery life between charging by using the device's automatic power reduction feature while in close proximity to Femtocell
Delivers a private mobile base station with 300 meter coverage
Easy set-up
Instant Broadband Access with Internet Sharing