NAD Electronics introduced the T 777 and T 878 home theater A/V receivers, both of which include high definition 3D video at resolutions up to 1080p, decoding of all the latest surround sound formats, and proprietary Modular Design Construction (MDC). The new receivers are dedicated to a "less is more" approach, avoiding needless features and directing the investment in areas that have proven to be important and add value.
High Power DSPs and EARS
NAD uses multiple high power DSPs in the T 787 and T 777 along a proprietary non-logic matrix surround mode called EARS (Enhanced Ambience Retrieval System), which gives stereo recordings a completely natural and spacious ambience. Premium 24/192 analogue-to-digital and digital-to-analogue converters are employed to retain the full detail and resolution of high definition material for maximum musicality and incredible surround effects. Audyssey MultEQ XT is also provided for easy speaker setup and state-of-the-art digital room correction.
'Music First' Audio
To underscore NAD's commitment to high performance audio, both receivers offer decoding for all the latest surround formats including Dolby True HD, Dolby Digital Plus and DTS Master Audio. Also included is a top level, 24-bit/192kHz Burr Brown DAC carefully selected for ultimate audiophile performance.
Full Disclosure Power
Power sells amplifiers and receivers and real power can make a real difference. Unlike many competitors, who pull every trick out of the book to get the biggest possible number for the power spec, NAD starts by optimizing its power supply to properly drive real-world loudspeakers. This means a properly regulated, high-current power supply is supplied in the T 787 and T 777. NAD rates its receivers with a difficult 4-Ohm load, with all channels driven simultaneously, over the full frequency bandwidth (20Hz – 20kHz), and at rated distortion. This is the Full-Disclosure rating method on which all of the brand's amplifier and receiver specs are based and a far cry from the most often used FTC minimal requirement of using an 8 Ohm load, any channel (singular), at an easy 1 kHz frequency, with no distortion specified.
NAD's Full Disclosure Power Rating is an attempt to bring a broader understanding to the power rating issue. True to their roots, the company philosophy has always been that listeners don't listen to ratings, they listen to music or experience movies through loudspeakers in their listening room or home theater.
PowerDrive
Building on our reputation for amazingly effective power, the T 787 and T 777 utilize NAD's proprietary PowerDrive circuitry to maximize short term dynamic power and low impedance drive capability.
Powerful enough for a multi-seat theater, the 7 x 120-watt, T 787 includes two high-current Toroidal transformers for the most articulate and powerful performance available in an AVR. One power supply is dedicated exclusively to the front left and right channels for dedicated music listening with the inclusion of high performance loudspeakers. The T 878 offers dynamic power up to 230-watts at 8-ohms (320-watts at 4-ohms).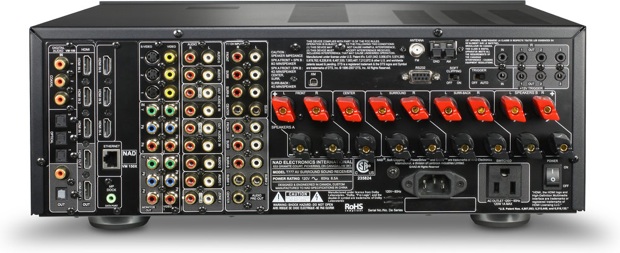 T 777

T 787
Far more powerful than its power ratings indicate, the T 777 is a 7 x 80-watt AV receiver that can power high-end home theaters to lifelike listening levels with ease. It offers dynamic power up to 160-watts at 8-ohms (260-watts at 4-ohms). Like its more powerful T 787 stablemate, the T 777 uses NAD's exclusive PowerDrive circuit.
One of the apparent benefits that listeners experience with PowerDrive is the clear detailed sound, with powerful and extended bass, with an effortless ability to handle musical and cinematic climaxes. Ample power reserves and the ability to drive complex loads are hallmarks of NAD and create lifelike performance in music or movies.
HD and 3D Video
The T 787 and T 777 provide 7 HDMI inputs and 2 outputs to effortlessly handle the most ambitious system architectures. With full support for HD and 3D Video at resolutions up to 1080p at frame rates of 24, 50 and 60FPS, the new AV collection can handle all present HD formats. HD digital video has become the primary format in today's video systems, so NAD has taken the position to "do no harm" to the pristine video signal. Opposed to adding or subtracting anything from the video signal, these models follow the resolution of the source component up to the limit of the display device with zero processing.
In addition to IP control there are IR outputs, 12V triggers, and an RS-232 port for easy connection to home automation systems. Speakers may be added in other rooms or 'Zones', and with a simple on-screen setup and the supplied second zone remote (Zone output can be redirected to Back Surround channels), fill any room with high quality NAD sound. Add the NAD IPD 2 Dock for iPod for control, charging and media display.
Modular Design Construction (MDC)
With digital technology, the current trend is to build highly complex AV receivers but the fast rate of changing technology quickly makes today's state-of-the-art obsolete. MDC is an exclusive NAD feature that offers the owner an easy upgrade path to future technologies, protecting their investment from technology obsolescence and ensuring long-term satisfaction. Now in its seventh year, with three generations of MDC Upgrade Modules, Modular Design Construction is a proven, award-winning program. MDC Upgrade Modules are replaceable circuit modules that update the digital technology of the AV receiver or preamp processor to new standards and features. So instead of buying a completely new unit for the next version of HDMI or new surround modes, owners can simply purchase the required module, if and when needed, for a fraction of the cost of a new model.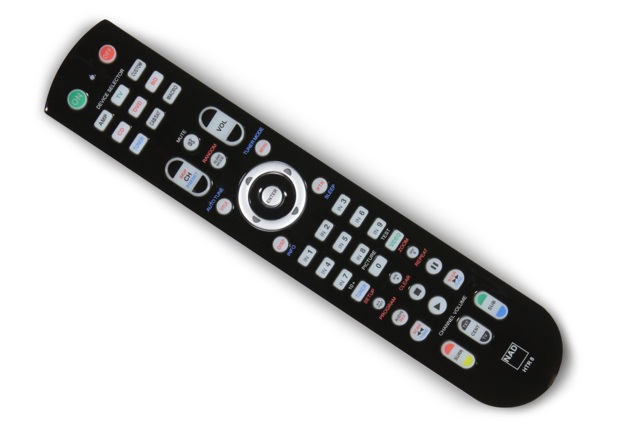 "Most A/V receivers today focus predominantly on the Video and Surround Sound aspects, leaving audio circuitry almost as an afterthought. At NAD, we believe that there are many people for whom sound quality will always come first." commented Greg Stidsen, Director of Technology and Product Planning. "Rather than over-complicating AV surround sound products by cramming every possible feature and buzz word into the box, NAD carefully evaluates how customers actually use our products and only include the features that are essential for great audio and video performance."
Key Features
MDC (Modular Design Construction)
High Power DSPs
EARS (Enhanced Ambient Retrieval System)
Music First Audio
HD and 3D Video
NAD Full Disclosure Power
PowerDrive
Connectivity and Flexibility
Price and Availability
NAD T 777 → $3,000
NAD T 787 → $4,000