NAD Electronics introduced the 7.1-channel, (120-watt x 7) T 757 surround sound A/V receiver built with proprietary Modular Design Construction (MDC) architecture. MDC offers the owner an easy upgrade path to future digital format technologies, protecting their investment from technology obsolescence and ensuring long term satisfaction.
'Music First' Audio
The NAD T 757 supports popular surround sound formats, including Dolby TrueHD and DTS Master Audio, which are decoded using the latest generation of high-speed DSP. Stereo source material can be converted to surround sound using the company's exclusive EARS surround mode, praised by reviewers for its natural sound quality.
Pure and Simple Video
On the video side, the T 757 supports 3D video at resolutions up to 1080p. Analog video sources are also supported on HDMI for simple 'one wire' connection to either a flat screen display or projector.
Easy Flexibility
NAD has designed a very simple user interface that is both flexible but very easy to use. Each source component retains the same custom settings every time it is selected for viewing, and there are no 'empty inputs' to clutter or confuse. In addition, powerful AV Presets allow custom setups for different types of program material (drama, action, musical, etc.) tailoring the performance to the owner's taste. Inputs can even be renamed to match particular components. A second independent zone is included, powered by the internal amplifier. The T 757 also offers a full suite of connections for home automation systems.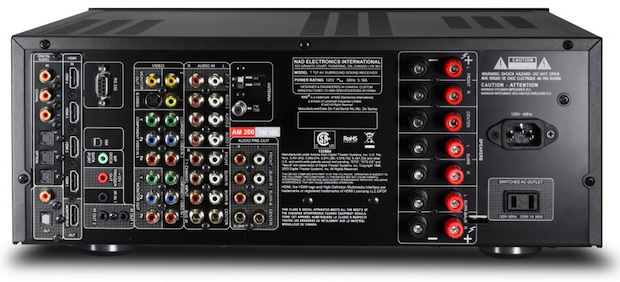 More Music Options
iPod lovers can simply add the IPD 2 Dock, which shows song information on the T 757's On Screen video display. Radio lovers will appreciate the T 757's highly sensitive FM/AM tuner, 30 station presets, and RDS support.
Key Features
MDC (Modular Design Construction) offers ability to upgrade to future digital formats when available
Music First Audio legendary sound combined with latest audio formats Dolby True HD and DTS Master Audio plus EARS surround mode.
Pure and Simple Video latest digital video technology supports 3D video at 1080p, analog supported via HDMI for one-wire connection.
Easy Flexibility simple user interface. AV presets, inputs can be renamed
Multi-room ready second zone output with internal amplifier built-in
Specifications (see datasheet -1.5MB PDF)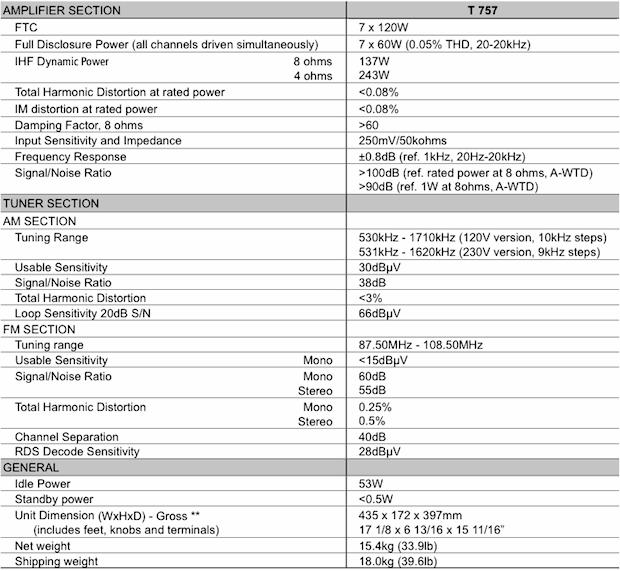 MSRP: $1,599