NAD introduced the high-performance T 187 AV Processor/Preamplifier built using a proprietary Modular Design Construction (MDC) to make upgrading a possibility when new formats are released. The T 187 offers the latest video and surround sound formats, including full 3D video, along with all the control in this compact, streamlined chassis.
Modular Design Construction (MDC)
MDC is an exclusive NAD feature that offers the owner an easy upgrade path to future technologies, protecting their investment from technology obsolescence and ensuring long-term satisfaction. Now in its seventh year, with three generations of MDC Upgrade Modules, Modular Design Construction is a proven, award-winning program. MDC Upgrade Modules are replaceable circuit modules that update the digital technology of the preamp processor to new standards and features. So instead of buying a completely new unit for the next version of HDMI or new surround modes, owners can simply purchase the required module, if and when needed, for a fraction of the cost of a new model.
High Power DSPs and EARS
NAD uses multiple high power DSPs in the T 187 to perfectly implement lossless HD surround formats from Dolby and DTS. It also features NAD's non-logic matrix surround mode called EARS (Enhanced Ambience Retrieval System), which gives stereo recordings a completely natural and spacious ambience. Premium 24/192 analogue-to-digital and digital-to-analogue converters are employed to retain the full detail and resolution of high definition material for maximum musicality and incredible surround effects. Audyssey MultEQ XT is also provided for easy speaker setup and state-of-the-art digital room correction.
'Music First' Audio
To underscore NAD's commitment to high performance audio, the T 187 offers decoding for all the latest surround formats including Dolby True HD, Dolby Digital Plus and DTS Master Audio. Also included is a top level, 24-bit/192kHz Burr Brown DAC carefully selected for ultimate audiophile performance.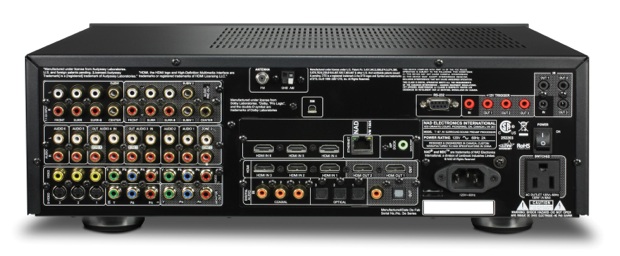 HD and 3D Video
The T 187 has 7 HDMI inputs and 2 outputs to effortlessly handle the most ambitious system architectures. With full support for HD and 3D Video at resolutions up to 1080p at frame rates of 24, 50 and 60FPS, the new AV collection can handle all present HD formats. HD digital video has become the primary format in today's video systems, so NAD has taken the position to "do no harm" to the pristine video signal. Opposed to adding or subtracting anything from the video signal, these models follow the resolution of the source component up to the limit of the display device with zero processing.
Connected
The T 187 are equipped with seven HDMI inputs and two outputs, as well as digital coaxial and optical inputs/outputs. In addition to IP control there are IR outputs, 12V triggers, and an RS-232 port for easy connection to home automation systems. Speakers may be added in other rooms or 'Zones', and with a simple on-screen setup and the supplied second zone remote (Zone output can be redirected to Back Surround channels), fill any room with high quality NAD sound. Add the NAD IPD 2 Dock for iPod for control, charging and media display.
Price and Availability
The NAD T 187 is available now for $3,000.