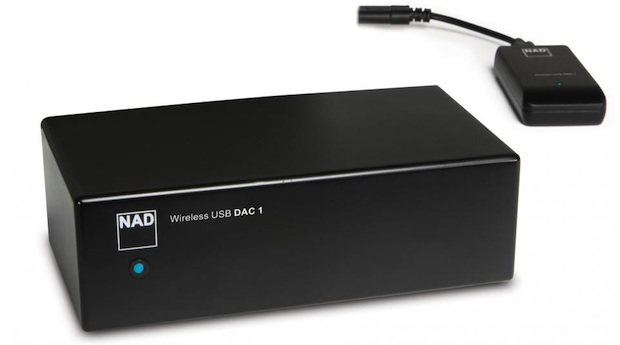 NAD Electronics announced the affordable DAC 1 Wireless Audio USB Digital-to-Analog Converter that features Point-to-Point Wireless Audio that transmits uncompressed 16/48 music.
The DAC 1 is simple to install and easy to use and no wireless network is needed. The unit's transmitter plugs directly into the computer's USB port (PC or Mac) and it serves as a sound card to digitally transmit audio to the hifi system. Measuring a mere 5.3″ x 1.38″ x 2.75″ and weighing less than a pound, the DAC 1 has a range up to 120 feet and can be expected to reach 75 feet in a typical home.
The DAC 1 Transmitter bypasses all the analogue circuitry in your PC and transmits directly to the DAC 1 Receiver connected to your hi-fi system, using the native digital format for the best possible sound. Once received at the DAC 1 Receiver, the digital signal is converted and sent as an analog signal to your stereo amplifier. There is also a coax digital output that allows downstream digital processing. Analogue conversion uses premium BurrBrown OPAmps and 24/192 DACs with selected passive components in a proprietary circuit.
Features
Simple to install — no wireless network card needed. Just plug into computer's USB port
Convenient — compact size, transmits 75 feet in a typical home
High performance audio — quality Burr-Brown DAC and OPAmps
Universal — works with either PC or Mac with a USB Port
Specifications:
Input: USB 2.0
Analog Outputs: 2 x RCA Jacks
Digital Output: 1 x Coaxial RC Jack
Sample Rate: 48kHz/16bit
THD+N: 0.05% (ref 0dBFS)
Signal to Noise: >-80dB
Analog Output Level: 2V
Coax SPDIF: 500mV ±50mV
Frequency Response: 20Hz to 24kHz ±0.5dB
D/A Converter: Burr-Brown TI PCM1781
Time Delay: <18ms
RF Band: 2.4GHz
Transmission range: 40m (line of sight)
Price and Availability
The NAD DAC 1 will be available late September 2011 for $300.