1080p Home Theater Media Player with PVR (Personal Video Recording)
Mvix(USA), Inc., a market leader in market leader in technology and products for high-definition entertainment, business signage solutions and networked accessible storage devices, announces the worldwide launch of the Mvix Ultio Pro, a Hard-Disk Based media center capable of HD digital media playback with video output as high as 1080p and personal video recording capability.
Ultio Pro's high-end video processing not only plays Blu-Ray quality video, it allows to store entire Hi-Definition media on its internal hard drive, plug it into a TV via a HDMI and enjoy movies, digital music and family photos on large LCD or Plasma. The flexibility and scalability of Ultio makes it the easy to play HD movies or home videos. Ultio supports most 1080p HD video codecs, and formats such as H.264, MKV, Dixv HD, MOV, VC-1, FLV, etc. Ultio Pro is completely scalable – one can choose upto 2TB of media storage in its internal hard disk. Ultio Pro comes with an embedded Torrent client combined with NAS (Network – Access-Servers) features that provides an ideal setup for digital media acquisition, storage and sharing.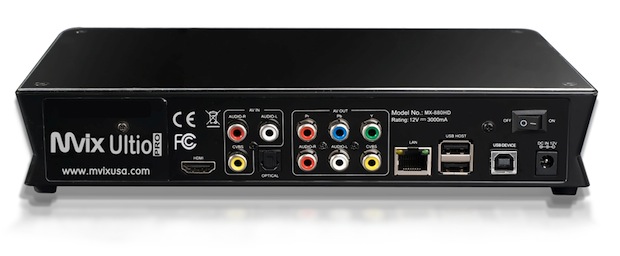 Combined with spectacular picture quality of HD video and crystal clear sound clarity of digital audio, the Ultio Pro enables analog recording of TV shows from the Cable or Satellite, or family videos from a Camcorder. It provides an ideal setup archiving old VCR tapes and DVDs to digital media files. Ultio Pro even supports time-shift and scheduled recording functionalities – making Live TV playback a snap.
Mvix Ultio Pro is being launched worldwide in 2 flavors: the regular version (without a HDD) is priced at $169, whereas the premium version (bundled with 2TB Hard Drive) will be available at $348. Pre-Orders start immediately.
Speaking on the occasion, Mike Mallon, VP of Business Development at Mvix, commented "Mvix Ultio Pro is the amalgamation of high definition media playback and recording. We've been working on the personal video recording (PVR) technology for some time and we're happy to combine HD media playback and recording in a single device that should serve as the ultimate solution for home entertainments and business videos. Our aggressive pricing structure with a comprehensive set of features is likely to set highest standards in high definition entertainment."
Ultio is also internet-ready and pre-equipped with a network port and an optional Wireless-N capability. It sports a samba server and a UPnP implementation, allowing seamless integration with services like PlayOn or Tversity (for streaming video content from Netflix, Hulu, CBS, Youtube, CNN, ESPN and much more). Wireless-N accessories for Ultio Pro will also be launched simultaneously.
Mike further added, "We are excited to launch this new product in the new year. This is our most comprehensive product to-date and we feel very confident about its market traction. In reality this new model is built by our valued customers – each feature on this device is an outcome of customer feedback on our older models."
Pre-Orders of Mvix Ultio start immediately and shipping is planned for first week of February at $179 MSRP.