Motorola Introduces RAZR2 — The Next-Generation RAZR
Sleeker Outside, More Powerful Inside, the Next Iconic Device Delivers the Ultimate Mobile Experience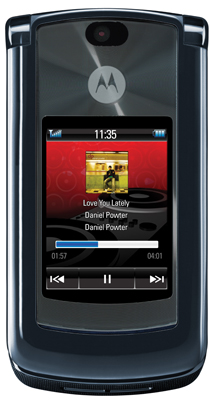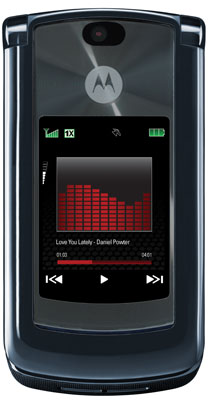 Motorola, Inc. (NYSE: MOT) invited the world to experience the evolution of the RAZR brand as it unveiled RAZR2, the ultimate iconic feature phone. Available July 2007 in several markets, the next-generation device packs cutting-edge features such as CrystalTalk™1 technology, up to 2GB of on-board memory, Web browsing3, real-time point-to-point video3 and ultra-fast menu navigation, all packed into a slimmer, stronger, sleeker design.
"With the modern style and powerful performance of RAZR2, Motorola is once again redefining the cell phone," said Ed Zander, Motorola's chairman and chief executive officer. "This device takes the world's best-selling feature-phone to the next level. Combining groundbreaking new features and an even slimmer exterior than the original icon, the RAZR2 is capable of giving consumers the ultimate mobile experience."
Slimmer yet stunning
Thin is (still) in — Motorola made the RAZR2 profile even sharper, shaving two millimeters from the original RAZR.4
Big is beautiful — Greatly enhanced dual screens give consumers the largest-in-its class 2.0″ external screen for crisp picture caller ID3 and readable texts5 4 and a 2.2″ internal screen with twice the resolution4 of the original RAZR.
Materials matter — To further beautify this sought-after icon, Motorola incorporated a seamless casing, a soft touch back and a stunning vacuum metal front finish.
Stronger yet sleeker
Strong as steel — At the core of RAZR2 is a stainless steel internal frame to provide strength and durability.
Not even scratching the surface — The huge exterior lens is made with chemically hardened glass to be more scratch resistant.
An open and shut case — Motorola tested the cast aluminum hinge in more than 100,000 lab tests to help ensure that every time a customer flips open the device, it will work perfectly.
Smarter yet simpler
Going global — The RAZR2 family's three new handsets — V9 (3G HSDPA), V9m (EVDO CDMA) and V8 (GSM) – will be available to users of all three major technology networks.
Software smarts — Some versions of RAZR2 will run Linux/JavaTM5, giving Motorola entry to the next generation of mobile architecture.
More intelligent interface — The RAZR2 V8 has a completely redesigned User Interface (UI) so consumers can search contacts even faster. This eliminates duplicate entries for the same person while allowing contacts to have multiple numbers. The main menu is customizable, so consumers are never more than 2-3 clicks away from favorite applications, and even messaging is easier; RAZR2 automatically recognizes what type of message consumers are sending.
Speed thrills — With the new ARM 11 processor1, processing speed is 10 times faster than the original RAZR and with high-speed USB 2.0 it only takes 2-3 seconds to transfer a song.
Now hear this — Motorola's innovative CrystalTalk™1 technology on the RAZR2 automatically adjusts audio to ensure clear calls even in a noisy environment.
It answers back — RAZR2 V8 "talks" to consumers by speaking the interactive menu, contact lists, emails and messages aloud — a feature developed for people with visual impairments, but convenient for in-car use6 or when you are on the go.
Tempting texts — Without even opening the phone, RAZR2 users can rely on the large external screen to read messages and reply with pre-programmed text messages5.
Play on — With up to 2GB of memory4, the new RAZR2 rocks with stereo Bluetooth wireless technology7 and enough storage for approximately 1,000 songs8.
Manage with ease — Microsoft Windows Media Player 11 compatibility helps consumers easily purchase, synchronize and transfer their music library to their RAZR2 in only a few minutes. In some models music can be downloaded over the air at near-broadband-like wireless data speeds.4
Good vibrations — The external display incorporates Motorola's breakthrough "haptics" technology, which provides users with vibrating feedback in response to their finger taps. This, combined with the virtual music keys, allows the user to effortlessly control their music.
Just browsing — The Web-browsing experience, including a full HTML browser1, in the new RAZR takes advantage of its stellar internal display and high-speed wireless data connections for faster, bigger and richer surfing. Built-in email functionality gives easy, PC-like access to both personal and corporate email accounts3.
Better mobile search — Debuting on the RAZR2 family of devices, Motorola has incorporated Google's powerful new mobile search experience3, which helps users quickly and easily get the information they need, bringing them highly relevant results with an absolute minimum of clicks and enabling them to add frequently accessed content to their Google homepage.
Picture this…and this — The multi-shot feature5 on the handset's 2.0 megapixel camera automatically snaps up to eight new pictures so users can choose the best image from a complete series of pictures.
Watch this, real-time — A new real-time point-to-point video feature allows another wireless customer to "See What I See"9 while a voice call is in progress. Consumers can also store up to 2 hours of video4 footage on the device.
Availability
Expected to launch in July, consumers can immediately pre-order RAZR2 at www.motorola.com and be among the first in the world to experience the next RAZR. For specific regional availability and pricing, contact your local Motorola representative.
For more information on all of Motorola's announcements today, please visit www.motorolalaunch.com
Feature available on the RAZR2 V8 and V9
Network and/or SIM card dependent feature, not available in all areas. Airtime, data charges, and/or additional charges may apply.
Varies due to the configuration of the phone, which varies by service provider
Feature available on RAZR² V8
The use of wireless phones while driving may cause distraction. Discontinue a call if you can't concentrate on driving. Additionally, the use of wireless devices and their accessories may be prohibited or restricted in certain areas. Always obey the laws and regulations on the use of these products.
This device supports Bluetooth BIP-ImagePush, BPP-SenderDev, DUN-GW, FT-Server, GAP, GAVDP, Headset-AG, HFP (1.5) AG, OPP-Client, OPP-Server profiles. In order for Bluetooth devices to communicate with one another, they must utilize the same Bluetooth profile. To determine the profiles supported by other Motorola devices, visit www.hellomoto.com/bluetooth. For other devices, contact their respective manufacturer.
Certain Bluetooth features including those listed may not be supported by all compatible Bluetooth-enabled devices, and/or the functionality of such features may be limited in certain devices, or by certain wireless carriers. Contact your wireless carrier about feature availability and functionality.
Based on 4 minutes per song at a data rate of 64Kbps. Storage capacity is approximate and subject to available memory space and encoding method used; actual capacity varies by content.
Feature available on RAZR2 V9