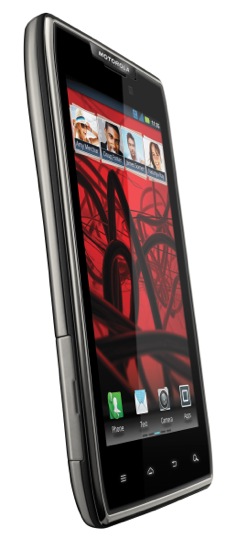 Motorola Mobility has released a slightly thicker version of its super-slim RAZR smartphone called the RAZR MAXX. While still thin at a hair under 9mm, its extra thickness allows more battery room to provide up to 17.6 hours of talk time. Otherwise it is the just like the RAZR, keeping a 4.3-inch Super AMOLED Advanced display protected with Corning Gorilla Glass, 1.2 GHz dual-core processor, and 1GB RAM with the Android operating system.
Smart Actions, the remarkably intelligent application exclusive to Motorola Mobility, pushes the limits even further by automating everyday tasks based on triggers like time of day, location, battery levels and more. Never forget to put your phone on silent in meetings, turn up the volume when your boss calls and even maximize your last ounce of power by dimming the display and turning off power hungry services.
Motorola RAZR MAXX also comes preloaded with the Motorola MotoCast app, giving you the power to stream or download content from a home or work computer straight to the device so your docs, pics and music are always available — anytime, anywhere. No uploading to a third party means no wasted time or forgetting to upload that crucial presentation, and everything stays protected, right on your computer.
Motorola smartphones offer some of the industry's most powerful enterprise features available, and Motorola RAZR MAXX is no exception, including government-grade encryption and productivity tools that rival the capabilities of desktop PCs. Collaborate in real time with GoToMeeting and create and edit files right on your phone with QuickOffice.
Features
3G/4G LTE connectivity
Android 2.3.5 Gingerbread OS (upgradeable to 4.0)
Dual-core 1.2 GHz processor
4.3-inch Super AMOLED Advanced touchscreen
8-megapixel camera + Full HD 1080p video record
16 GB memory + 16 GB microSD card
GPS navigation
Wireless-N Wi-Fi
Stereo Bluetooth
Personal/corporate e-mail
Up to 21 hours of talk time
Price and Availability
Motorola RAZR MAXX is available now in the U.S. for $199 from Verizon Wireless (with contract). It is expected to be available in select markets in Europe and the Middle East starting from May 2012.