Motorola Mobility announced the PHOTON 4G, their first Sprint 4G smartphone with a dual-core 1GHz NVIDIA Tegra 2 processor, Android 2.3, Sprint ID and worldphone capabilities. In addition the PHOTON 4G offers the perfect blend between personal and business needs with enterprise-quality security for Android, international GSM capabilities, a 4.3-inch qHD display, dual cameras and a kickstand for hands-free viewing.
Built with Android 2.3, Gingerbread, Motorola PHOTON 4G, combined with the Sprint 4G Network, lets users browse, download and multitask at blazing-fast speeds to support their busy lifestyles. Motorola PHOTON 4G does it all, providing users with an array of versatile tools, like the Motorola webtop application, allowing users to access and create content from a larger screen while connected to a Motorola accessory dock (available for purchase following device availability).
Photo and Storage
Equipped with powerful imaging enhancement software, PHOTON's 8-megapixel camera delivers shutter lag speeds rivaling those of a standalone digital camera: less blur, fewer missed shots, more action, more picture perfect photos. Say goodbye to the days of rationing disk space on your smartphone; the PHOTON offers the largest total memory of WiMAX smartphones with 16GB of built in memory which can be expanded to a total of 48GB.
Business Productivity
Motorola's webtop application instantly extends the PHOTON into something far beyond the average smartphone. Just connect your PHOTON to unique HD Multi-Media dock accessory and webtop does the rest. Via an HDMI connection to HDTV or PC monitor, launch a full Firefox 4.0 browser that gives you access to your phone's interface, 200,000 Android Marketplace apps, surf the Web, make calls, send texts, or run GoogleDocs, and other Web apps. To make sure this data remains yours alone, PHOTON 4G implements several business-grade security measures such as data encryption and remote device management for maximum security.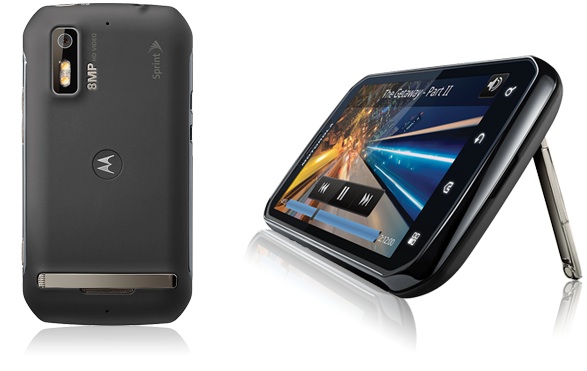 Motorola PHOTON 4G Features
| | |
| --- | --- |
| Talk Time | CDMA: up to 10 hours, WCDMA: up to 9.1 hours, GSM: up to 10.4 hours |
| Standby Time | CDMA: up to 8.3 days, WCDMA: up to 13.1 days, GSM: up to 12.2 days |
| Bands/Modes | WiMAX 2.5, WCDMA 850/1900/2100, CDMA 800/1900, GSM 850/900/1900, CDMA EV-DO Release A, EDGE Class 12, GPRS Class 12 |
| Dimensions | 66.9 x 126.9 x 12.2 mm |
| Display | 4.3″ qHD (Quarter High Definition) |
| Weight | 158 g |
| Battery | 1700 mAh |
| OS | Android 2.3 (Gingerbread) |
| Connectivity | 3.5mm, USB 2.0 HS, HDMI, DNLA, Bluetooth, OTA, PC Sync and Corporate Sync |
| Network | Sprint Nextel |
| Messaging/Web/Apps | MMS, SMS, email (Corporate Sync, Google Mail, POP3/IMAP embedded, Push Email) |
| Camera | 8MP, Digital Zoom with dual LED flash, 2nd VGA imager for video chat self image capture |
| Audio | FM Radio Receive, AAC, AAC+, AAC+ Enhanced, AMR NB, AMR WB, MIDI, MP3, WAV, WMA v10, WMA v9 |
| Video | 720p capture; 1080p playback |
| Memory | 16GB, up to 48GB |
| Antenna | Internal |
| Location Services | eCompass, aGPS with Google Maps, Google Latitude, Google Maps Street View |
Availability (Update)
The Motorola PHOTON 4G smartphone will be available July 31, 2011 for $199 on the Sprint Nextel network with two-year service agreement or eligible upgrade.