Motorola launched three new Android smartphones into its MING series designed especially for China. The phones combine a superior Android touchscreen experience with updated MING styling and features, and include the MT810 for China Mobile's TD-SCDMA network, the XT806 for China Telecom's CDMA-2000 network, and the A1680 for China Unicom's WCDMA network.
Designed in China for Chinese people and first launched in 2006, the MING rapidly established itself as a hit with its distinctive design and special features such as superb Chinese handwriting support, developed by Motorola and now in its sixth generation, and PDA functions that were useful and intuitive long before smartphones were a household word. Since the launch of the series more than five million Ming devices have sold in China.
All three of the new MING devices offer a full touchscreen experience and sport an updated version of the MING flip design, including the signature transparent flip cover.
MT810: Social Meets Business for China Mobile
MT810 is being jointly launched with China Mobile, the world's largest mobile telephone operator by subscribers, and uses China Mobile's OPhone OS 2.0 implementation of Android. The MT810 has a unique dual-touch system in which the 3.2-inch display is a resistive touchscreen perfect for stylus or finger input and the transparent cover is a second capacitive touchscreen that offers full finger touch functionality even when the phone is closed. A suite of pre-loaded intelligent business applications enables you to stay successful on the go while D1 (720 x 480) video capture, 720p HD video playback and powerful audio-video functionality, including support for China's CMMB mobile television format, offer an unparalleled mobile entertainment experience. Access China Mobile's Mobile Market with more than 7000 applications and tens of thousands of themes.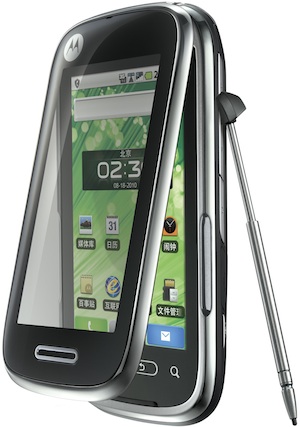 XT806: An Internet Powerhouse for China Telecom
XT806 is an Internet-connected powerhouse built on Android 2.1 and offered by Motorola and China Telecom. Easy connectivity and dual-mode/dual-standby support for CDMA EVDO and GSM enable seamless roaming so you can receive information around the world. XT806 also provides integrated mobile business application tools such as Quicknotes, and innovative application that allows you to easily work on text, voice recording, videos, pictures, sketches and screen snapshots. With these features, the XT806 becomes a multimedia notebook that can help you search and work at any critical moment. It also has a transparent flip design and a 3.2-inch screen with a super-sharp 300dpi display, powerful GPS navigation services and 720p HD video capture and playback. Access Motorola's SHOP4APPS, with over 800 specially selected applications.
A1680: Iconic MING Redefined for China Unicom
A1680 brings Android together with a design that reflects the classic and elegant MING heritage. A 3.1-inch AMOLED touchscreen offers a crystal clear display and excellent touch capabilities. A1680 supports China Unicom's WCDMA network, as well as WAPI and WIFI1 high-speed connectivity for easy access to the mobile Internet. Motorola's acclaimed intelligent handwriting recognition software has been perfected for the A1680 while a sixth-generation SoftStylus handwriting system easily captures your personal penmanship style. The A1680 also has a 5MP camera and GPS navigation services. Access Motorola's SHOP4APPS, with over 800 specially selected applications.