Features easy-access keyboard, instantly expandable push-to-talk conversations and dynamic multimedia features; Available for $99.99 from Sprint
The first slider phone offering push-to-talk service, Motorola Debut™ i856, is now available from Sprint, combining Nextel Direct Connect, best-in-class push-to-talk services, with a stylish multimedia device for both business and consumer applications.
Motorola Debut's compact slider form factor offers a smooth gliding action for easy one-handed operation, keeps the keypad secure when not in use and offers easy access when needed for instant communication between two people or a group of people, next door or in the next state. It is also the first device to offer the upgraded ability to switch from an active push-to-talk call to an interconnect voice call at the touch of a button.
"Motorola Debut introduces an attractive and convenient form factor unlike any Nextel Direct Connect users have seen before," said Danny Bowman, president of Sprint's Integrated Solutions Group. "Debut is even more interesting when you combine Sprint's industry-leading push-to-talk capabilities of the Nextel National Network and our affordable rate plans, with a rich array of multimedia and texting capabilities that help users communicate faster and more flexibly both at work and at play."
When connected to the Nextel National Network Motorola Debut lets users manage their conversations, musical tastes and visual creativity with ease. Nextel Direct Connect users can also bring friends and business associates into a conversation on the fly with Group Connect — a powerful productivity tool on the job and a convenient way to coordinate family and social activities.
Nextel Direct Connect enables our customers to get things done faster, at the push of a button. When instant communication is needed between two people or a group of people, next door or in the next state, Sprint provides a solution to get the job done – in less than a second. The Nextel National Network reaches more than 274 million people and more than 17,500 cities, and nationally, the Nextel National Network continues to operate at best-ever performance levels for dropped calls and near best-ever for block calls, based on internal metrics as of June 2009.
Motorola Debut allows busy people to work at a fast and uninterrupted pace:
Send and receive messages, calendar events, pictures, location information and more, all without interrupting a Direct Connect call
Play music while you text or talk
Threaded texting messaging to view entire conversations all on one screen
High-Quality Multimedia Experience
With its built-in MP3 player and external music controls, Motorola Debut offers a high-quality stereo music experience through wired headphones or Bluetooth wireless technology. The sound takes on additional dimensions for users who use the built-in 3D Audio equalizer to create special musical effects.
For users with a photographic bent, Motorola Debut's 1.3 megapixel camera features up to 4X digital zoom and video capture. Pictures can also be enhanced with advanced imaging features to create a variety of image styles — from full color on the vivid 176X220 color display to sepia tones to black & white. Users can also use GPS Tag Images to document exactly where a picture was taken and a variety of other applications to edit photos and manage video content.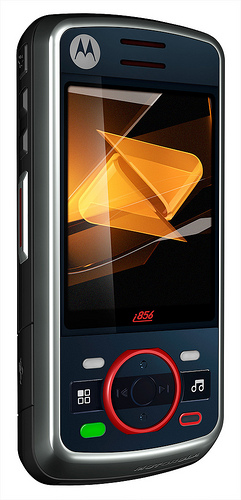 In support of these capabilities Motorola Debut features include:
Nationwide Walkie Talkie capability1
Music player with 3.5 mm standard audio jack
1.3 MP Camera with Video
GPS & Wireless Web Enabled2
Stereo Bluetooth capabilities3
Text Messaging1
Expandable memory, supporting up to 8 GB MicroSD card4
Speakerphone with Voice-Activated Dialing
Large Direct Connect button that backlights when a push-to-talk call is received
Multimedia Messaging Service for sending audio, images, text, or all three in the same message to or from email addresses and other capable users with the ability to wirelessly store multimedia on the Sprint Web site
Pre-loaded applications, including Sprint Mobile Email & SME-W, TeleNav Navigation, NASCAR Sprint Cup Mobile and NFL Mobile Live
Downloadable Games, Wallpapers and Real Music Ringtones1
Availability and Pricing
Motorola Debut can be purchased with Nextel Direct Connect calling plans in all Sprint sales channels, including Sprint retail stores, Business Direct Sales, Telesales (1-800-Nextel-9) and Web sales for just $99.99 with a two-year service agreement and $50 mail-in rebate (excluding taxes).
1 Coverage not available everywhere. Network reaches over 274 million people. Additional restrictions apply.
2 Network and/or SIM card dependent feature, not available in all areas. Airtime, data charges and/or additional charges may apply. Wireless email functionality requires an email account with wireless server capabilities.
3 This device supports Bluetooth A2DP, HSP, BT FTP and HFP profiles. In order for Bluetooth devices to communicate with one another, they must utilize the same Bluetooth profile. Certain Bluetooth features including those listed may not be supported by all compatible Bluetooth-enabled devices, and/or the functionality of such features may be limited in certain devices, or by certain wireless carriers. Contact your wireless carrier about feature availability and functionality.
4 MicroSD card with up to 8 GB of memory purchased separately.
Reviews Around the Web:

motorola i856