4.3-inch Display, 8-megapixel Camera, HDMI
Verizon Wireless and Motorola today unveiled DROID X by Motorola. DROID X does more with ultra high-speed Web browsing; a fast 1GHz processor; 3G Mobile HotSpot capabilities; loads of memory; intuitive social messaging; Adobe® Flash® Player 10.1 ready; and access to Android Market, which has more than 65,000 applications, along with a host of unique Verizon Wireless applications such as NFL Mobile, Skype mobile, V CAST Video, EA Need for Speed Shift and more.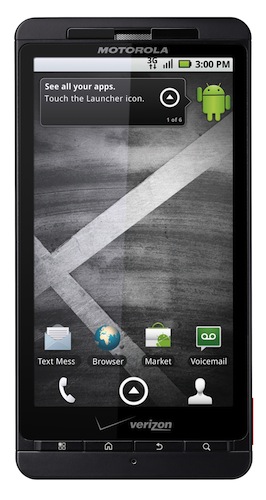 "Nine months ago, we made a commitment to our customers to bring the openness of Android to the Verizon Wireless network," said John Stratton, executive vice president and chief marketing officer for Verizon Wireless. "Since then, we have introduced the top-selling Android phone in the marketplace today — the DROID by Motorola. DROID X takes that commitment to another level with exclusive content, faster processing speeds, and, of course, the reliability of our network."
Sanjay Jha, co-chief executive officer of Motorola and chief executive officer of Motorola Mobile Devices and Home business added, "Motorola designed DROID X to push the extreme limits of Android innovation, and enable you to do even more with your mobile device. We are breaking down barriers so that you can experience the Web the way it was meant to be and create, share and view content like never before, either in your hand or in your home. Enterprise users will also find DROID X appealing with features including push e-mail and live widgets for e-mail and calendar updates."
DROID X gives customers a 4.3-inch high-resolution screen for viewing the latest movies and video from BLOCKBUSTER On Demand® presented by V CAST Video, the newest addition to the Verizon Wireless V CAST application, which also includes access to favorite TV shows. The DROID X video capabilities let customers capture spontaneous fun, combining a dual-flash, 8-megapixel camera, HD camcorder, as well as DLNA and HDMI connectivity to download, stream and share personal HD content.
DROID X customers will also receive Android 2.2 and Adobe Flash Player 10.1 with an over-the-air update in the latter half of the summer. With the update, the Flash Player will allow mobile users to experience hundreds of sites with rich applications and content inside the browser, including games, animations, rich Internet applications (RIAs), data presentations and visualizations, ecommerce, music, video, audio and more.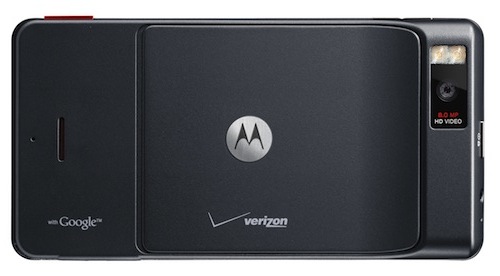 "It has been an exciting time for Android momentum and global consumer adoption since the announcement of DROID by Motorola nine months ago," said Andy Rubin, vice president of engineering for Google. "There are 160,000 new Android-powered devices activated daily and Android Market has grown to over 65,000 applications. Plus later this summer, Verizon Wireless and Motorola will update all the DROID by Motorola phones to the latest 2.2 software. For customers, this means great new features and improved browser performance. For developers, this will provide new tools such as cloud-to-device messaging and enhanced enterprise functionality."
"We are excited about full Flash support coming to the DROID X and other devices from Motorola," said Shantanu Narayen, president and chief executive officer of Adobe. "Flash Player 10.1, which is one of Adobe's most anticipated releases ever, has been redesigned from the ground up to deliver the kind of highly engaging experiences that consumers now expect from their mobile devices."

Once updated to Android 2.2, business customers will find DROID X offers the features that turn the device into a workhorse with support for both Exchange and Gmail for business. Corporate users can enjoy push delivery of e-mail; live widgets that stream messages to the home screen; filter widgets to differentiate work and home e-mail; corporate directory and Global look-up along with a unified calendar for Enterprise and sync with Google Calendar. Security protocols allow remote password control and wipe via Exchange server.

Pricing and Availability
DROID X by Motorola will be available online and in Verizon Wireless Communications Stores beginning July 15 for $199.99 after a $100 mail-in rebate with a new two-year customer agreement. Customers will receive the mail-in rebate in the form of a debit card; upon receipt, customers may use the card as cash anywhere debit cards are accepted. In addition to subscribing to a Nationwide Talk plan or a Nationwide Talk & Text plan, customers will also need to subscribe to an Email and Web for Smartphone plan. Nationwide Talk plans begin at $39.99 monthly access. Email and Web for Smartphone plans start at $29.99 for unlimited monthly access.

Customers can add the optional 3G Mobile Hotspot service to their DROID X for $20 per month. The 3G Mobile Hotspot allows customers to turn the phone into a wireless modem for up to five compatible Wi-Fi devices. In addition, current Verizon Wireless customers who have contracts ending by December 31, 2010, can upgrade to any smartphone, including DROID X, without penalty.

* Statistics on Android smartphone purchasing in the U.S. are according to the NPD Group's May 10, 2010 press release, "Android Shakes Up U.S. Smartphone Market."

<!-comments-button-->