Monster announced the ClarityHD Model One High Definition Multi-Media Speaker Monitor. Featuring a built-in high-powered digital amplifier and iPod dock, the all-in-one speaker system delivers an unprecedented level of higher-definition "big sound" for a bookshelf sized speaker, with all the advanced connectivity options to satisfy the needs of today's most ahead-of-the-curve audio consumer.
The Monster ClarityHD Model One can be set up easily in just seconds and provide room-filling sound right out of the box. It will be available in gloss yellow or gloss red, to complement any decor, and is ideal for use in the living room, den, bedroom or kitchen as well as for professional music studio or in-home studio use.
Specifically Designed for Digital Music
The Monster ClarityHD Model One is engineered and meticulously voiced to maximize the audio quality of today's digital music, with a clear focus on articulation, intelligibility, accuracy, dynamics, inner detail and realistic soundstaging. Its breakthrough audio performance is made possible thanks to the inclusion of advanced 6.5-inch bass drivers with 4-layer voice coils for deep extended low end response and proprietary soft-dome tweeters for smooth articulate highs with superior inner detail.
Full Complement of Inputs for Virtually Every Source

Notably, the ClarityHD Model One is designed to offer unprecedented flexibility and listening options while satisfying the growing need for better sounding music in today's digital universe. The speaker's full complement of inputs accommodates virtually any type of source from consumer audio and video gear to professional recording and DJ gear as well. In addition to the iPod dock, a full complement of versatile inputs are included for total user flexibility and "future readiness," including: a mini-jack input for smart phones, MP3 players and computers; a balanced 1/4-inch TRS input for home studio and DJ applications; RCA inputs for any audio or video device; and a StreamCast Port for future wireless technologies.
Key Features
Built-in iPod dock and digital amplification
Bi-amp design for effortless reproduction of demanding music
Proprietary soft-dome tweeters for smooth articulate highs with superior inner detail
Crossed-over in the digital domain for rich detailed soundstaging and reduced signal degradation
Crystal clear dynamic highs, balanced mid-range, and deep bass
The audiophile grade ClarityHD Model One Speaker joins the new family of high-performance Monster products under the company's growing sub-brand "ClarityHD. The trend-setting lineup includes two ultra-compact listening solutions, the black ClarityHD Precision Micro Bluetooth Speaker ($119.95), geared for use with Blackberry devices, smartphones and notebook PCs, and the silver iClarityHD Precision Micro Bluetooth Speaker ($119.95), geared for use with the Apple iPod, iPhone and iPad, as well as the high-performance ClarityHD In-Ear Headphones ($199.95).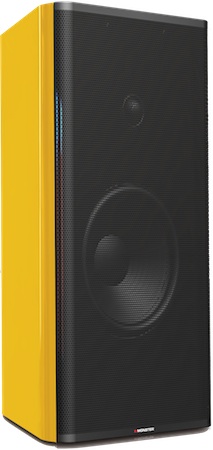 Head Monster Noel Lee noted: "We named our new ClarityHD speaker system the Model 'One' for the simple reason that it's the first of its kind to combine such powerful audiophile-grade performance with total user simplicity and all the connectivity features demanded by today's consumer — not yesterday's. The way we listen to music has changed. We no longer build our family rooms around a stack of gear in the center of the room, and we don't want the intrusion of huge speakers and other components. And thanks to portable, digital music players like the iPod, we now keep vast music collections in our pockets. The Model One delivers the kind of big sound you wouldn't expect from a bookshelf speaker, and with the iPod as heart of the system, you can listen all your favorite music, from virtually every source, in higher definition. Best of all, it's an all-in-one, high-powered system that lets you finally get rid of that stack of gear in the middle of your room!"
Price and Availability
The Monster ClarityHD Model One will begin shipping in mid-July 2011 for $749.95/pair.