Microsoft announced the new Xbox 360 4GB video game console will be availalble August 3rd in the U.S. for $199.99. With a sleek new design, the Xbox 360 4GB console looks great and includes built-in Wi-Fi N, 4GB of internal flash memory, touch-sensitive buttons and a black matte finish.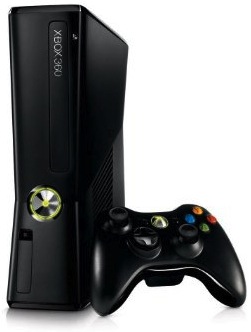 Product Features
New design — Experience the innovative technologies of the future and faster, better gameplay in a brand-new Xbox 360 machine that blends a sleeker, quieter, more modern design with massive new capability
Integrated 802.11n Wi-Fi — Stay connected from the same place you play: network with friends on Facebook, post Tweets on Twitter, stream live TV and HD movies and get your favorite music from Last.fm, and log on to Xbox Live quicker than ever
Xbox Live — Immerse yourself into the Xbox Live world of entertainment, communication, expansive multiplayer games and downloadable game add-ons — now faster and with more ease than ever
Streaming capabilities — Immerses you in the latest blockbuster games, HD movies and more in breathtaking speed and clarity, and puts the world at your fingertips
Kinect ready — Built to connect seamlessly with the Kinect Sensor, the progressive control system that throws the remote out the window — and responds to your movements instead (not included)
Wireless Controller compatible — Also compatible with the award-winning, high-performance Xbox 360 Wireless Controller that features a range of up to 30 feet and a battery life of up to 30 hours (not included)
More connections — Plug into the possibilities using five USB ports, an Ethernet port, an HDMI output and an all-new integrated optical audio out port for an easier connection to the booming sound of your A/V receiver
Console only; Kinect Sensor and wireless controller not included
What's In The Box?
Xbox 360 4GB S Console
Xbox 360 Black Wireless Controller
Xbox 360 Composite A/V cable (standard definition)
One Month Xbox LIVE Gold Membership
1 year limited warranty on console
Pre-orders now accepted at Amazon.com and other retailers.