In addition to Microsoft's new Halo: Reach Console Bundle, Microsoft and Bungie announced the Halo: Reach Limited Edition Wireless Controller and the Halo: Reach Limited Edition Wireless Headset, both of which feature a distinctive silver color and exclusive artwork by Bungie.
Wireless Headset Features
Features all the functionality of the wireless headset, a distinctive silver color and artwork created by Bungie that was inspired by Halo: Reach, the blockbuster prequel to the award-winning Halo trilogy.
Experience enhanced clarity and performance with freedom.
Stylish, ergonomic design fits comfortably on either ear.
The headset utilizes the same 2.4 GHz radio technology for clear communications within a range of up to 30 feet.
Take command of the situation and communicate with superior audio quality over Xbox LIVE.
Invite your friends and connect up to four wireless headsets per console.
Supports Voice Command for select games.
Conveniently located Power On/Off, Volume, and Mute Controls are right where you need them.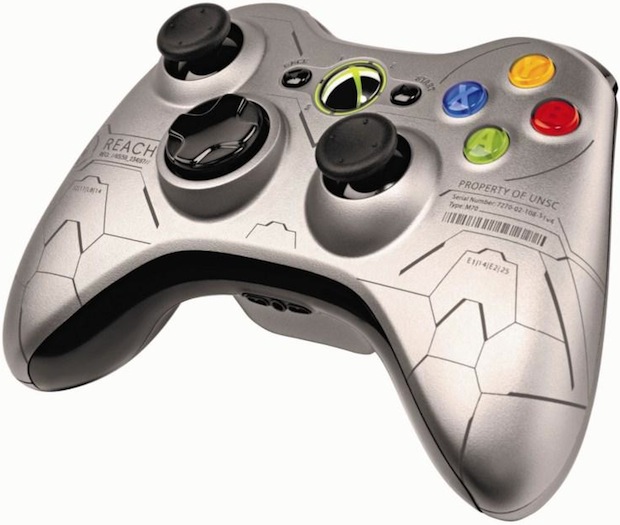 Wireless Controller Features
Features artwork created by Bungie, inspired by Halo: Reach, the blockbuster prequel to the award-winning Halo trilogy
Features all the functionality of the award-winning wireless controller while fitting in perfectly within the Halo: Reach mythology.
Includes a token for a Banshee aircraft avatar item
2.4GHz wireless technology with 30-foot range
Use up to four controllers simultaneously on one console
Integrated headset port for Xbox LIVE play
Adjustable vibration feedback for longer battery life
Use the Xbox 360 Guide button to keep track of your friends, access your games and media, or power on and off your Xbox 360 console
Price and Availability
Both products are available for pre-order now at Amazon.com and will ship in September in limited quantities at the following prices:
Halo: Reach Limited Edition Wireless Controller – $59.99
Halo: Reach Limited Edition Wireless Headset – $49.99