Colorado-Based Magic Home Entertainment, LLC Introduces Its Premiere Product — moodSeer — at EHX Spring 2007
Magic Home Entertainment, LLC (MHE) launched its plug-and-play home audio component, moodSeer at EHX Spring 2007.
The moodSeer system — the latest in audio component technology — is a complement to any home theater or entertainment center and designed to be a "GPS system for extensive music collections."
This multi-room, multi-source home audio component is comprised of the moodCenter, the main unit where all the music is stored, moodSpot, individual room players and a hand-held touch screen remote controller.
Original music from any music source (such as CDs and MP3s) is digitally transferred and stored by the moodCenter in lossless and streaming formats to maximize music capacity without sacrificing track quality.
The music is then delivered either wireless or wired and is designed to complement any home theater or entertainment center. The moodSeer can even plug and play the playlist of an MP3 player or an iPod.
The moodCenter unit connects to any current home theater, entertainment or audio system already in place and comes with a CD drive and high-quality digital and analog audio outputs.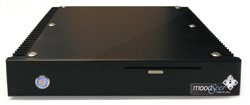 The moodSpot is connected to component audio systems or powered speakers in any other room in the home. Select the music using the touch screen and the music will begin playing in the desired room.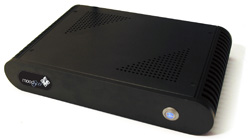 The touch screen controls the moodSeer system and with a touch of a finger, delivers a collection on command to a specific room.
The moodCenter comes standard with storage capacity of 8,000 tracks in lossless format and 40,000 tracks streaming format. Additional storage capacity is optionally available.
Base price for the moodSeer system starts at $6,300 and includes the moodCenter, a moodSpot and one touch screen. The system is shipped within two weeks direct from Magic Home Entertainment, LLC.
Each additional moodSpot cost $1,500 and a touch screen is available for $700. Package pricing is available to fit consumer-specific needs.
MHE offers a website for consumers as well as a web portal (www.moodSeer.com) for moodSeer dealers/installers that incorporates an online technical knowledgebase, issue tracking, order/inventory status integration.
The moodSeer system is the premier product of Magic Home Entertainment, LLC, a Colorado-based company established in February 2005.