New Amps Reflect the 'Best of the Best' in McIntosh Engineering Expertise, Delivering Uncompromising Musical Accuracy, Build Quality and Reliability
McIntosh Laboratory announced the MC452 ($7,500) and MC302 ($5,500) Stereo Amplifiers. Both products are the culmination of McIntosh's longstanding engineering experience in high-performance amplifier development and design, featuring the latest advancements in both electronic component and material design to deliver unsurpassed accuracy, warmth and emotional impact in music reproduction.
Notably, the 300 watt-per-channel MC302 is the most advanced amplifier McIntosh has ever produced at this power level. The higher power allows each connected loudspeaker to reach its' full audio potential. Cosmetically, both new amplifiers feature the new McIntosh Faceplate and chassis design with larger easier-to-read iconic "McIntosh Blue" precision power Watt Meters. The 450-watt-per-channel "Quad Balanced" MC452 delivers unprecedented control, clarity and detail in all speakers. In both amps, McIntosh's new patent-pending speaker wire binding posts make the perfect connection with all types of speaker wire terminations, ensuring the smoothest and most reliable high-quality music reproduction.
New Amplifiers Promise a Lifetime of Great McIntosh Music
McIntosh components are renowned for their "lifetime" durability and unmatched performance — in fact, many of the company's earliest amplifiers are still in use today. Both the MC452 and the MC302 are designed for this level of durability as well as true high performance. Notably, both new McIntosh amplifiers are designed to solve problems arising from use with modern audio gear. For instance, loudspeakers today often come in many different shapes and sizes depending on room size and application, which can cause sound systems to perform less than optimally. However, this becomes a non-issue when speakers are combined with an amplifier that supplies the correct quantity of power and does so with absolute purity, such as the MC452 and the MC302. Full rated power is available with all speaker types and impedances, making these amplifiers an ideal match for all speakers.
Further enhancing audio quality, thanks to their smart engineering design, the MC452 and MC302 are both designed to run "cool" in normal use without any extraneous noise from the connected chassis or speakers. These units use the latest advanced transistor types allowing the coolest operation possible, and always the perfect temperature for the best sound and longest life.
For total user convenience and "armchair listening enjoyment," both new McIntosh amplifiers can be remotely controlled by a McIntosh control center and may have the meter illumination switched on or off as desired.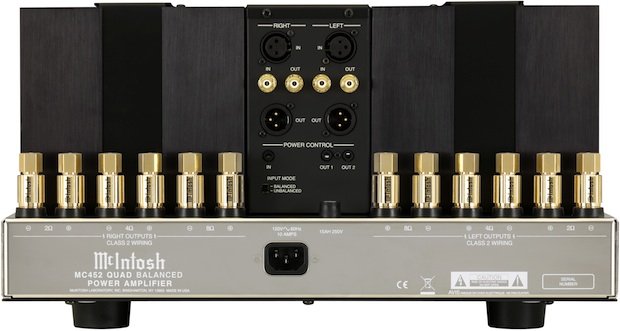 MC452 and MC302: Standout Technology Features:
Both units feature Thermal Track technology, allowing instant and accurate monitoring and adjustment of temperature, assuring maximum performance with minimal heat.
The MC452 and MC302 are both able to mate with any loudspeaker type because of the unique McIntosh Autoformer.
Both amplifiers use McIntosh Output Power meters, which display power in watts. Knowing the true output delivered will allow adjustment of the volume to match the speaker's design limits.
The large, oversize power transformer and both of the stereo output autoformers of the MC452 and MC302 are encapsulated in aluminum enclosures, which are further sealed with transformer potting tar. This construction technique has been proven to extend the life of these parts while providing quiet, cool amplifier operation.
As in all McIntosh amplifiers, the MC452 and MC302 have a full suite of protection circuits. First, Thermal Control safeguards the amplifiers from over-heat conditions. In addition, shorted speaker wires or loudspeakers will not harm the MC452 or MC302 thanks to Sentry Monitor. Finally, Power Guard prevents these amplifiers from being overdriven into distortion. This grouping, the Exclusive McIntosh Power Assurance System, protects these units from anomalies in the operating environment while preserving the performance and long life of the MC452 and MC302.
Price and Availability
The MC452 ($7,500) first shipped in September 2010, followed by the MC302 ($5,500) in October 2010.