MartinLogan announced the new EFX hybrid electrostatic on-wall speaker, their slimmest reference quality wall-mountable solution to date. The EFX's electrostatic panel is housed in a radical, ultra-ridged extruded aluminum and composite AirFrame making the panels extremely rigid while maximizing playable surface area and dipole sound radiation. The EFX's Curvilinear Line Source (CLS) XStat transducer builds upon the legacy of MartinLogan's electrostatic heritage with controlled dispersion, advanced vacuum bonding, and MicroPerf design providing the highest levels of efficiency and precision.
The new EFX provides electrostatic speaker enthusiasts the flexibility for either surround or front solutions in a slim, space saving package. Perfectly suited to hang on the wall next to a flat panel TV, the EFX comes with a sturdy pivoting wall bracket, making it easy to mount, adjust and angle for the best possible multi-channel movie and music experience.
Featuring an advanced crossover topology derived from the MartinLogan CLX loudspeaker, the EFX crossover utilizes precision audiophile-grade metal film capacitors and high-purity air-core coils. This design flawlessly preserves microscopic subtleties while handling the broadest range of dynamics contained within even the most demanding sonic source.
The diaphragm at the heart of the EFX's electrostatic transducer employs a sophisticated conductive coating applied to the polymer surface at the atomic level using a plasma bonding process. A proprietary compound is driven into the surface of the polymer film in an oxygen free argon chamber. This process allows extremely uniform surface resistivity characteristics, an optically transparent surface, and a nearly massless diaphragm resulting in industry leading levels of accuracy.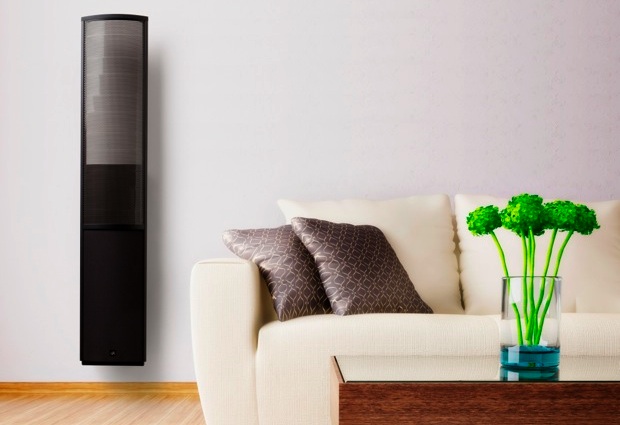 To eliminate the need for a traditional IEC power cord and significantly increase ease of installation, especially for custom applications, the EFX features a low-voltage DC power supply and proprietary five-way binding posts. To further enhance custom application options, the EFX is only 6.5 inches deep when mounted on its pivoting wall-bracket (included).
Price and Availability
The MartinLogan EFX on-wall electrostatic speakers are available now for $3,095 per pair.
See more about: Speakers, Wall Speakers, MartinLogan Speakers, Home Theater Speakers