Flagship receiver for 3D TV and HD Audio
The new flagship integrated SR7005 AV surround receiver from Marantz offers full compatibility with 3D TV and HD Audio, nearly 1KW of power, as well as an integrated media player. And all this wonderful technology is housed in a wonderfully elegant chassis, which sports a classic circular display with the traditional Marantz star.
The audio "brain" of the system is the latest generation 400Mhz, 32-bit Sharc DSP from Analog Devices, which easily handles HD audio decoding and the Audyssey MultEQ XT PRO room equalisation auto set-up. Other technologies from Audyssey include DSX processing to provide additional speakers at the front-wide area, Dynamic EQ to maintain bass and rich sound at low volumes, and Dynamic Volume. There's also Dolby ProLogic IIz for enhanced vertical and horizontal spatial performance from the front channels.
Central to its spectacular performance are six HDMI 1.4a inputs, one of which is hidden behind the front flap for easy access, ensuring that both movie lovers and gamers are completely future- proofed with spectacular 3D video support at 1080p HD. The SR7005's HDMI 1.4a inputs and two outputs also offer HDMI pass through in standby mode, Audio Return Channel (ARC) and CEC (Consumer Electronics Control).
Just as impressive is the upconversion to HD quality of DVD and other standard video sources via an Anchor Bay Technologies ABT2015 chipset.
The SR7005 built-in digital media player can access and stream music and static jpg images content you have stored on a home network, whether it be on a PC or NAS drive. You can also access new media via the iPod-compatible USB input for digital connection to the device, while the RJ45 Network jack provides connection to vTuner Internet radio and supports music services such as Napster. The M-XPort delivers optional Bluetooth reception via a RX101 unit to hook up mobile devices, PCs, and even the iPad.
Classical analogue signals will come from the built-in FM tuner or via either the analogue input jacks or the phono pre-amp, which is ideal for vinyl.
The "muscle" of the system is a current feedback amplifier circuit with proprietary Marantz HDAMs and an oversized low impedance transformer for rapid current supply. This works alongside custom filter capacitors and hand-selected customized components.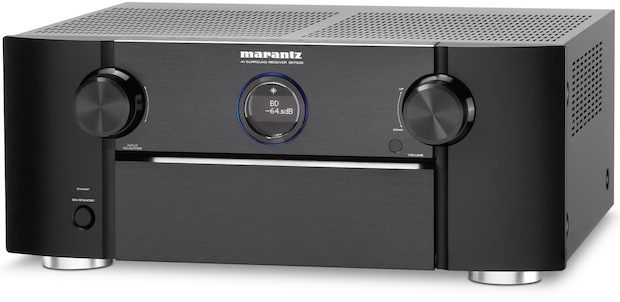 This ultra-wide bandwidth amplification system – the impedance at the current feedback point is kept very low, which means there is very little phase shift – was originally developed for Super Audio CD signals and is ideal for DTS-HD Master Audio and Dolby True HD.
To wring the very best audio from the SR7005 employs a segmented power structure, with separate power supplies for each key audio section, and extensive internal shielding of key components to avoid electrical interference. There's also a Pure Direct mode that closes down all superfluous circuits and features, such as the display.
The result of all this technology is a conservatively estimated 125W into 8 ohms across each of the seven channels with an unerringly accurate tonal and image balance, allied to speed and dynamics with very low distortion.
And even when the SR7005 isn't playing, it adds style and attitude to any room, thanks to its elegant design with the new blue illuminated circular display. And beauty is more than skin deep here, with the full-metal chassis employing substantial shock-absorbing feet to virtually eliminate sound-degrading vibration.
The SR7005 will be available from August in black or silver/gold for £1,399.90.