A brand new MeeSeries product line has been introduced recently by the "designer electronics" brand LOOQS. The MeeSeries product line makes it easier to store, manage and enjoy your multimedia files within a network.
As more and more digital content like photos, music and videos find its way into people's living rooms, solutions are needed to manage and enjoy this content in an easy and straightforward manner with products which 'looqs' great and fits seamlessly within your home interior. LOOQS has created the perfect solution for this by introducing the MeeSeries!
The MeeSeries includes several 'Mee-components' which all have their own features and functionalities, but fit perfectly together design-wise and create added value in combination with one another. Let's introduce the MeeSeries components one by one:
MeeBox

MeeBox NAS

MeeBox Router
MeeBox is your central media server and offers you centralized downloading, storage space, file management, data backup and file sharing of all your favorite multimedia files directly onto one device in your house at any time you like.
MeeBox is available in two versions, MeeBox Router and MeeBox NAS. MeeBox Router is similar to MeeBox NAS but it also has an integrated wireless router. Both of the boxes are available with one or two hard drives of 500 GB or 1 TB.
MeeFrame

With MeeFrame you can enjoy your personal digital photos and shared photos of your friends and relatives very easily. MeeFrame can play photos which are either stored locally (Internal memory / Memorycard / USB Device) or online (MeeChannel.com / Flickr / Picasa). By adding MeeBox to your MeeFrame you can also play and enjoy all photos which are stored on your central media hub.
Furthermore you can also use MeeFrame to get weather information, keep up-to-date with the latest news, listen to music and internet radio and use it as your alarm clock.
MeeCeiver

With MeeCeiver you can wirelessly stream photos, music and video files to your regular television set which are stored on your PC or MeeBox. Because MeeCeiver has a direct connection to the internet you can also stream online stored photos (MeeChannel.com / Flickr / Picasa), watch YouTube videos and listen to internet radio stations.
But there is more! MeeCeiver is also equipped with the so called 'Device Sharing' feature which makes it possible to directly access, download and stream files stored on one of your friend's MeeCeiver.
MeeChannel.com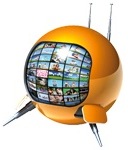 MeeChannel.com is a free online service and your personal gateway to photo storage, management and exchange. The MeeSeries products have been developed to work seamless with MeeChannel.com.
You can register your MeeFrame or MeeCeiver within your personal MeeChannel account and start enjoying your personal MeeChannel photos, shared photos of friends and relatives and different categories of public photos directly onto your MeeFrame or your television.
It is also possible to register a MeeCeiver of one of your friends within your account to enable the 'Device Sharing' feature on your own MeeCeiver.
About LOOQS
LOOQS is a brand new company (established early 2009), engaged in the design, distribution and marketing of electronic lifestyle products worldwide, with their headquarter based in The Netherlands. First introduction to the European public was at the well-known IFA 2009 in Berlin.
With a marketing and sales branch office in Arizona USA, and the participation at the CES 2010 electronics show in Las Vegas USA, the LOOQS MeeSeries products will be introduced in the USA market as well.
LOOQS has the mission to develop innovative electronics products with good 'looqs'. The MeeSeries now include MeeFrame, MeeBox NAS, MeeBox Router and MeeCeiver.