Loewe has introduced the Art 46 LED LCD HDTV in a new Mocha finish option. In addition to its eye-catching design and beautifully slim figure, the Art 46 LED offers more features than ever — including streaming from a computer and access to online content — as well as Art's best-ever picture performance. The 200Hz- equipped LED panel ensures excellent motion reproduction with maximum precision and sharpness, and is central to the image technology. Meanwhile, LED backlighting guarantees outstanding contrast values and the integrated speakers deliver excellent sound. As with all Loewe models they're a treat for the ears, delivering precise treble, a clear midrange and powerful bass.
Convenient technology
The Art LED cuts a fine figure in terms of multimedia. For the first time, music, photos, and videos stored on a home network or local USB storage device can be conveniently accessed with the Art family too, using the new Loewe MediaHome media portal. This makes it possible to view holiday photos from a PC hard disk or music videos stored on a USB stick in full size and high quality on the television screen. In addition, the new Loewe MediaNet feature now provides convenient access to online content on Art models with an integrated hard disk. MediaNet allows internet videos to be viewed, internet radio to be listened to, and a huge selection of further internet content to be accessed — all quickly and easily. And all this can be operated intuitively — at the touch of just a few buttons on the remote control. Indeed, the new design of the user interface, with its clear menu layout, means that benefitting from this range of functions is child's play.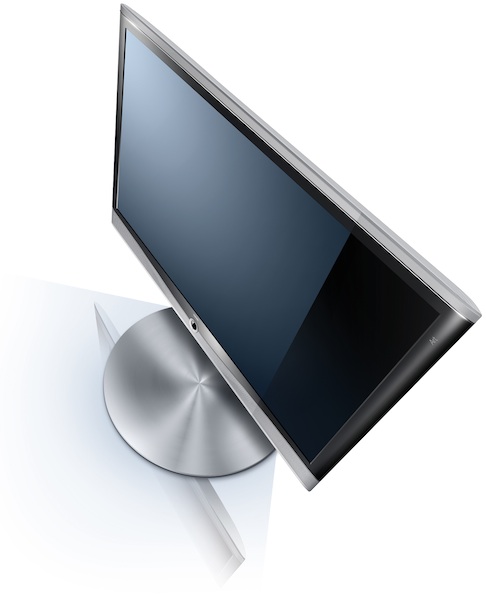 Ready for Loewe MediaText
A particular highlight of the new Art LED DR+ is Loewe MediaText. With this new function, Loewe has integrated the most stylish and convenient videotext of all time, based on HbbTV technology. This is a Europe-wide standard, which is already offered by some German broadcasters. Loewe is the first company to bring this new feature to market — in the form of MediaText, an additional aspect that makes the Art LED DR+ particularly future proof. An added bonus is the CI+ interface, of which the Art LED has two. MediaText will be available after the spring 2011 software update.
Attractive exterior
The Art LED's design, created in cooperation with Phoenix Design, means that Loewe has been able to reference design elements from the successful Loewe Spheros and Loewe Art SL models. As well as a full range of integrated functions, the televisions have become even slimmer. Harmonious integration into the living environment is facilitated by the three attractive colour options: exquisite High Gloss Black, high-tech Chrome Silver, or the new, comfortably warming, Mocha. Loewe also offers a wide selection of individual options when it comes to set-up solutions. From the Table Stand, with its rotating stand with adjustable incline, to the equally flexible Floor Stand and the VESA wall mounts — there are perfect solutions for every set-up. And what's more, the support for the wall mount is already integrated in the rear of the housing.
Outstanding sound
And this design icon certainly won't disappoint in terms of sound, either. Elaborately constructed, closed two-way speakers guarantee precise treble, a clear midrange, and powerful bass. All models are equipped with Dolby Digital Plus. The Art 46 LED is also equipped with integrated AC3 and DTS. The music performance of 2 x 20W stereo power plus 40W for the low frequency range ensures a clear, powerful sound. It is fully compatible with other Loewe audio components and can be upgraded at any time.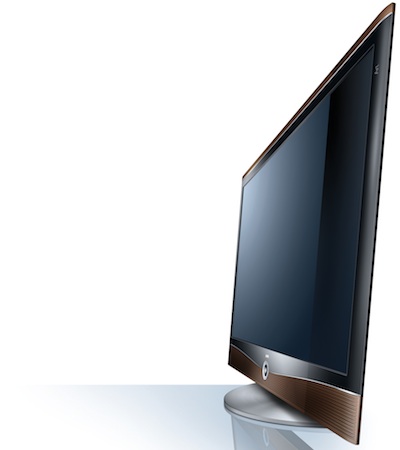 Environmentally friendly
Environmental friendliness and the sustainable use of resources were key considerations in the design of the Art LED. The Art LED contains no lead or mercury, while LED backlighting helps to maintain low level energy consumption. The OPC power management function optionally adapts the brightness of the display to the ambient light, thus reducing power consumption. The end result is stand-by mode power consumption of under 0.4 watts. It also goes without saying that Loewe products have been equipped with power shut-off switches for years now, guaranteeing genuine zero-watt consumption.
Price and Availability
The Loewe ART 46 LED is £2,395.00 (inc. VAT).
Reviews Around the Web:

loewe art 46