New Potato Technologies today announced the release of LiveRider, the first wireless cycling computer and mounting system for iPhone and iPod touch. LiveRider leverages advanced features of the iPhone and iPod touch to offer real-time performance feedback, GPS feature, data file system, and performance analysis.
LiveRider provides a useful and intuitive tool for every cyclist, from beginners to pros. The sensor unit easily attaches to the bike's rear chainstay to measure wheel speed and pedal cadence, while the cycling computer attachment fits into the iPhone/iPod touch dock connecter. The LiveRider cycling computer automatically pairs with the sensor unit. iPhone/iPod touch fits securely into the protective handlebar-mounted cradle. The free LiveRider app, available in iTunes, equips users with a full-color and highly legible touch screen cycling computer interface.
LiveRider is pre-programmed with the information needed to easily set up and start riding, including calibration for all standard tire/rim sizes and support for Metric and English units. Data from every cycling session is automatically recorded and saved, allowing users to access session data in graph form. Session data can also be exported by email into a spreadsheet or database. To help gauge performance and keep riders going strong, LiveRider includes a Chase Rider feature to compare the current session to any previously saved cycling session. LiveRider answers the requests of many iPhone-owning cycling enthusiasts, filling a void in the accessory marketplace and extending the utility of the iPhone and iPod touch.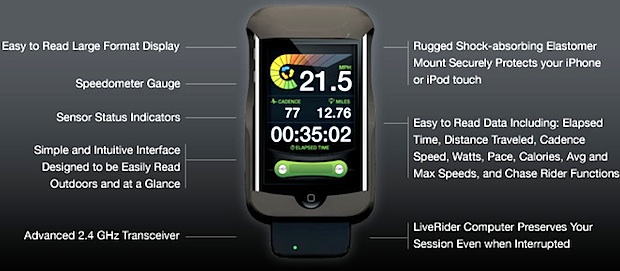 System Requirements
iPhone or iPod touch with OS 3.0 or higher installed
iPhone 2G, 3G, or 3GS Models
iPod touch 1G, 2G Models
LiveRider Application downloaded (FREE) from the iTunes App Store
Cycling Computer Dongle
2.4 GHz RF Transceiver
No Batteries Required
Connects to 30 Pin Accessory Connector
Wireless Sensor Unit
2.4 GHz RF Transceiver
Permanently Sealed to Resist the Elements
Permanent Life-Time Battery
Magnetic Cadence and Wheel Speed Sensors
Real-Time Data
Session Time (HH:MM:SS)
Current Bike Speed (MPH/KPH)
Maximum Bike Speed (MPH/KPH)
Average Bike Speed (MPH/KPH)
Current Cadence (RPM)
Average Cadence (RPM)
Current Power Output(WATTS)
Calories Burned (CAL)
Configuration
Configuration Memory for multiple bikes and their custom setup
Wheel calibration data included for all standard tire/rim sizes.
Supports both Metric and English units
Data File System
Every session is recorded
Review each session statistically and graphically
Export any session via email to import it into a spreadsheet or database
Chase Rider
Select any previously recorded session as your CHASE RIDER for a real-time comparison
Physical/Environmental
Total System Weight: <3 ounces
Operating Temperature: 0° to +50° C, Operating Humidity: 5% to 95% relative, non-condensing
Price and Availability
The LiveRider [app]cessory will be available in August for $99.99.
About New Potato Technologies
New Potato Technologies is a consumer electronics company headquartered in Wilmington, North Carolina, and focused on extending the amazing iPhone, iPod and iPad platforms into new innovative areas.