At IFA 2009, LG is showcasing three new monitors along with its line of network monitors, which are designed to enable a number of users to simultaneously share a single desktop PC.
"LG's presence at IFA 2009 enables us to demonstrate our display technology directly to our consumers," said Bae Jae Hoon, executive vice president of Business Solutions Company. "LG has worked hard to blend stylish design with smart technology and has packed a large number of features into our current range of monitors. LG's new network monitors will also be on display, pitched squarely at business customers looking to provide productivity at a reduced cost and impact on the environment."
LG Network Monitors provide a highly efficient multi-computing system
LG's Business Solutions booth includes a special zone to demonstrate its range of network monitors. These monitors are designed to connect to a single host PC to deliver virtual workspaces for up to 11 users, which eliminates the need for all users to have individual computers at their desks. By enabling multiple users to efficiently share a single PC, the system is able to reduce upgrade costs by at least 60-percent and maintenance costs by 70-percent or more.
During the show, LG will hold a quiz show where visitors to the booth located in hall 11.2 can experience the network monitor solution in person. The quiz show will take place four times each day of the show and will comprise a set of questions regarding LG monitors. Winners will be awarded one of LG's stylish and practical digital photo frames.
New displays to debut at IFA
LG unveils three new screens for the first time at IFA 2009; the W63 gaming monitor, W30 Color Pop monitor, and a new series of digital photo frames. The screens all boast a sleek and modern appearance, and are designed to deliver the best possible user experience for games, movies and pictures respectively.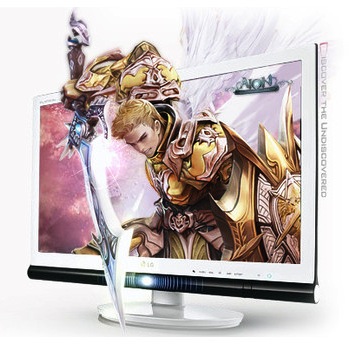 The 23″ Full HD W63 is LG's first monitor designed specifically for gamers and packs a host of technologies to deliver the ultimate gaming experience. These include Thru Mode, which eliminates image processing to enable players to see action as it occurs, and Tru Light which provides atmospheric lighting around the screen to boost tension in certain games. HD surround sound, and a zippy 2ms response time help put gamers in the thick of the action.
LG will also showcase its new W30 Color Pop screens. The Color Pop monitors boast an exceptionally slim profile, measuring just 37mm at the thickest point, and are available in a wide range of colors including Oreo Black, Jelly Pink, Blueberry Purple, Applemint Green, and Hawaiian Blue.
In addition, LG will introduce its new range of digital photo frames that are designed to fit any environment. LG's newest digital photo frames are fully capable of playing slideshows, music and videos. The frames feature 2GB of memory built-in, the largest volume on the market, so they can store more than 6,000 images and are able to play videos without requiring additional memory.
Eco-friendly, convenient and professional displays
LG is continuously making strides to help reduce energy consumption in its products and has developed technology to reduce power consumption by 50-percent compared to conventional monitors. An enhanced prism sheet enables LG to reduce the number of backlight lamps while still maintaining clear, bright images in its range of non-LED monitors. LG also offers screens with a LED backlight, which ensures low power consumption.
As an example, LG's advanced W86L monitor features a LED backlight, which enables it to be one-third slimmer and lighter than most of conventional CCFL-backlit monitors. At just 20.5mm thick, the W86L is not only ultra-slim but features enhanced specifications to ensure top image quality. With an impressive dynamic contrast ratio of 2,000,000:1 and the extremely fast 2ms response time, the W86L is an excellent choice for those looking for detailed visuals, vivid colors and flawless motion.
At the show, LG will also showcase the M27; a combination monitor and TV unit. The LG M27 eliminates the need for a separate computer monitor and TV and is designed to deliver high-quality HDTV images for broadcasts, Blu-ray movies, computer games, and digital photographs.
The final product in LG's impressive line-up is the W20R monitor, which is designed to satisfy graphics professionals who demand the highest level of color accuracy. The W20R delivers color that is absolutely true-to-life and has been certified by the IDEAlliance, a not-for-profit membership organization for commercial offset proofing. It also fully complies with the latest ISO 12647-7 standard which sets requirements for the production of half-tone color separations, proofs and production prints.