Smaller than a nine inch cube and built to store/share music, movies, files and more. Easy plug-and-play set up, up to 8TB storage space and convenient remote access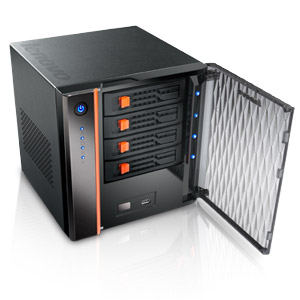 D400 home server securely houses large amounts of data for professional and personal use, including videos, music and photos. Users can easily set up a home network to store and share files across different devices such as PCs and smartphones. They can also regularly back up PCs on the network to support a small office or home office.
Key Features Include:
Plenty of Storage: Supports up to eight terabytes of total storage
Expandable and Easy to Use: Mix and match different brands and capacities of hard drives and even add and remove them while the PC is running. Connect multiple external storage devices with five USB ports, including a front-mounted port with one-touch data copy function and an eSATA port for high-speed external data transfer
Dependable and Secure: Duplicate important data on multiple hard disk drives for backup and security
Access Anywhere: Remotely access files from anywhere with an Internet connection by connecting remotely to the hub via a secure web page
Pricing and Availability
The IdeaCentre D400 home server will be available in mid-September at approximately $499.