From Out of the Blue, LaCie Unveils the Hard Disk, Design by Neil Poulton
Pure, discreet and smart design
Refined lines and mirrored polished storage device
Surprising blue LED effect for an ambient underside glow
Quite, fanless operation with large storage capacities
LaCie announced the Hard Disk, Design by Neil Poulton, a newly designed, sophisticated looking device available in capacities of 320GB, 500GB, 750GB and 1TB*. Sleek and compact, the 3.5-inch disk emits a bright blue line from underneath that creates a unique ambient glow. The Hard Disk, Design by Neil Poulton is ultra compact for a desktop drive and features natural heat dissipation due to a sturdy casing with bottom plate holes for natural airflow — enabling fanless operation.
The Hard Disk, Design by Neil Poulton can connect to any universal high-speed USB 2.0 interface. Cross-platform compatibility allows the device to be used on either a PC or Mac, and plug and play setup is simple and efficient with Windows 2000, XP, Vista, and Mac OS X.
"The Hard Disk, Design by Neil Poulton will be the keystone to LaCie's line of desktop drives," said Lise Manteau, LaCie Desktop Hard Drive Product Manager. "This user-friendly, trendy looking device offers maximum storage capabilities for a desktop drive that is one of the most compact designs on the market today. The integrated blue LED adds a science fiction dimension not common with other drives."
"The idea was to design a polished black marble slab. Mysterious. Impervious. Black mirror finish. Giving no idea to its function," added Neil Poulton.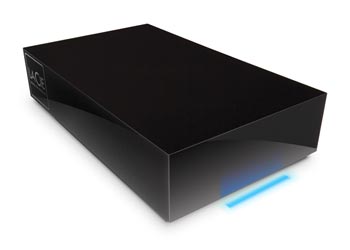 The product comes preloaded with LaCie's '1-Click' Backup Software for PC and Mac making it a complete storage solution to regularly back up an entire system, or upgrade capacity when the computer's hard drive is full. Also preloaded is the LaCie Setup Assistant, a new utility that optimizes the drive according to your needs and automatically copies the manual and utilities to the computer.
Availability
The Hard Disk, Design by Neil Poulton is available now in Europe, followed by North America and Asia. The device may be purchased through LaCie direct and will be widely available via LaCie's specialized dealer network at the suggested retail price starting at $119.99. For more product information, visit www.lacie.com/us.
About Neil Poulton
Neil Poulton was born in Thurso, Scotland. A graduate in Industrial Design from Edinburgh University and Milan's Domus Academy, Poulton first came into public view in 1989 as the creator of "the ageing pens," pens made from a "living," wearing plastic that changes color and form with use. Today, Neil Poulton designs and develops best-selling, award-winning products for a variety of international clients including LaCie & Artemide. Since 1991, Poulton has lived and worked in Paris, France. www.neilpoulton.com
About LaCie
Located in the USA, Canada, Japan, Australia, Europe, Singapore and Hong Kong, LaCie is the leading manufacturer of computer peripherals for Windows, Apple and Linux users. LaCie creates external storage solutions and color monitors that help professionals and everyday people easily manage their digital lives. LaCie has differentiated its products through original designs and leading-edge technology. Established in France in 1989, LaCie is listed on Euronext under FR0000054314 (LAC). For more information, visit www.lacie.com