Sprint is now selling the entry-level Kyocera Milano smartphone which offers a QWERTY keypad plus touchscreen and Sprint ID customization for heavy texters and first-time Android users, running version 2.3.
With a distinctive rounded shape and soft-touch finish, Kyocera Milano has a low profile that makes it easy to hold and slide into a pocket. The phone's slide-out QWERTY keyboard enables accurate tactile input for text messages and emails. Its touchscreen is augmented by Swype, which provides a faster and easier way to enter text on any screen when used with the device's virtual keyboard. One continuous finger or stylus motion across the screen keyboard is all it takes to enter words using Swype. The patented technology enables users to enter words faster and easier than other data input methods, at up to 40 words per minute.
Kyocera Milano's 'Eco Mode' is a proprietary preloaded power-management application from Kyocera that helps users manage battery life on their devices. User can pre-set a point (based on percentage of battery charge remaining) at which their phones will go into low-power-consumption mode by automatically adjusting various phone functions like screen timeout and brightness.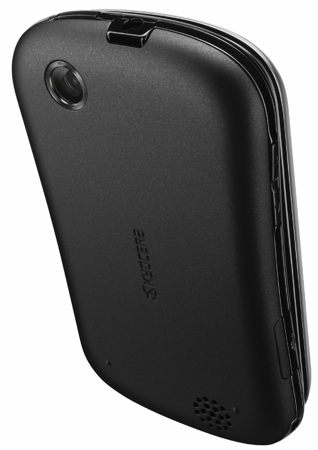 Additional key features on Kyocera Milano include:
Sprint ID, which helps users cut through the clutter of Android Market's 250,000 apps, allowing them to select from a variety of ID packs that feature apps, ringers, wallpapers, widgets and more downloaded onto their device with a couple simple clicks. Available ID packs include E!, MTV Music ID, Green and NASCAR
3.2MP camera with camcorder
512MB onboard memory
2GB microSD memory card included (and supports up to 32GB)
Wi-Fi hotspot capability, supporting up to five devices
Google Mobile Services
Full Microsoft Exchange ActiveSync support
Sprint Zone for one-stop access to account information, phone tips, news and more
Price and Availability
Kyocera Milano is available now for $49.99 at Amazon.com and Wirefly.
See more about: New Smartphones, Kyocera News & Reviews