New Colors, Designs for any Wedding
The new KODAK Wedding Single Use Cameras capture all of the big moments surrounding their weddings and the festivities leading up to them. Launched through TheKnot.com, the nation's number one wedding planning resource, Eastman Kodak Company today introduced two new KODAK Wedding Single Use Camera designs in red and blue. Kodak also unveiled the first bachelorette edition of a KODAK Single Use Camera, in teal. In addition, Kodak will also produce The Knot Forever Floral Single Use Camera, available exclusively on TheKnot.com.
"2010 is a year of the fun, modern bride, so Kodak has introduced these four new camera designs to reflect the personality of today's brides and complement almost any color scheme," said Therese Corrigan-Bastuk, Worldwide Marketing Director, Film Capture, Paper & Output Systems, Eastman Kodak Co. "The stylish new designs for the new line of Single Use Wedding Cameras make for great looking cameras that provide great looking pictures by using high quality 800-speed KODAK Film, making it easy to capture and share all of your KODAK MOMENTS."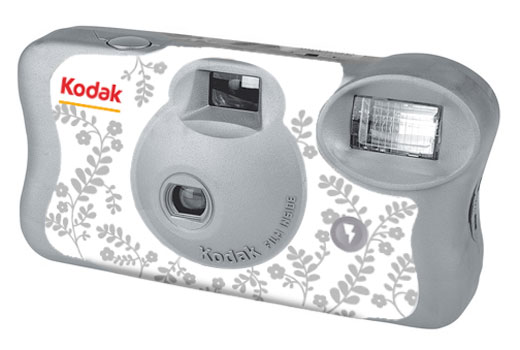 The new blue camera and red camera will feature the elegant rose design of the original white KODAK Wedding Single Use Camera that has become a popular accessory for wedding receptions, engagement parties and bridal showers. The bachelorette version of the Single Use Camera will feature a "girls' night out" design with a teal color scheme that goes well with other fun bachelorette party accessories. The Knot Signature Camera, designed by The Knot, is a sophisticated, clean design of silver-gray ivy on a white background.
"The KODAK Wedding Single Use Camera continues to be one of the top-selling items among brides," said Kristin Savilia, senior vice president of Ecommerce and Registry at The Knot Inc. "These new cameras, from a known and trusted brand, offer brides a fun way to invite their guests to help capture, preserve and tell the stories from their big day."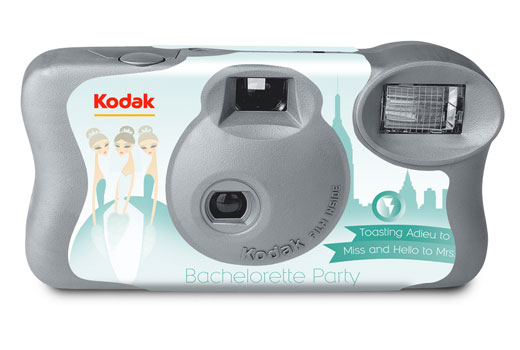 Kodak's Wedding and Bachelorette Single Use Cameras and The Knot Forever Floral camera use KODAK 800 speed film for sharp pictures and feature a manual flash with 4 to 11.5 foot flash range and will be available for $5.99, a special introductory price.