The Original Klipsch Image Headphones Have Been Renamed The X10
Following their introduction last November, Klipsch's award-winning Image headphones instantly became a fan favorite among reviewers, making a name for themselves as the world's smallest, lightest full-range earphone design. Today, the company is expanding the Image line to include the slightly larger X5, which brings another premium sound signature to this newly formed family.
According to Tony Ostrom, Klipsch director of product marketing, the Image X5 is bigger than its predecessor by only 2mm in diameter. This minimal size difference makes the X5 easier and slightly less expensive to manufacture, so the company can pass the savings on to the end user. However, Ostrom mentioned that these headphones are still considered very small, very lightweight and will continue the Image legacy of being the least fatiguing in-ear headphones around.
"Image's overnight success was a sure sign that we needed to make it a family affair, allowing us to meet the expectations of several different consumer types," said Ostrom. "With the addition of the X5, we are renaming the original Image the X10 and establishing it as the flagship model within the line."
Like the original, the X5 utilizes translucent patent-pending Contour Ear Gels that are anatomically designed to fit comfortably inside the human ear canal. These soft, oval silicon tips reduce ear fatigue and provide an amazing seal for excellent noise isolation along with increased bass response. Because ear canal measurements vary, each X5 comes with five different-sized ear gels: small, medium, and large single flange designs as well as small and large double flange designs. That way, virtually everyone can find the precise fit and noise reduction they desire.
From a performance perspective, the X5 uses a balanced full-range armature driver with a tuned bass-reflex system for crisp, clear highs and deep, impressive lows. Technology-wise, the X5 and the original differ in that the X10 uses a balanced full-range armature micro-driver. The X10 is meant for listeners who prefer a lot of bass in their music, while the X5 has a superior top end with more forward voicing.
"The X5 continues Klipsch's sound signature by performing accurately in the frequency and time domain, minimizing any phase distortion with its linear acceleration. As a result, you'll hear things in your favorite recordings you never noticed before," said Mark Blanchard, Klipsch senior acoustic designer. "The X5's versatility and rugged design make it an excellent choice for 'road warriors,' students or anyone else who wants no-compromise audio, extreme levels of comfort and fashion-forward style."
Image X5 headphones feature electroplated aluminum housings and streamlined, aerodynamic-shaped black "tails." These flexible tails reduce cable stress and serve as an acoustic damper to minimize cable noise.
By adding strain relief at every cable connection point to help prevent wire damage to their 50-inch-long vinyl cables, Klipsch has made the X5 headphones as durable as they are stylish. In general, the basic Image family design has also undergone hours of extensive "real world" testing.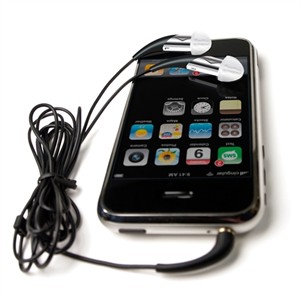 The Image X5 is compatible with the iPod, iPhone™ and virtually any device with a standard headphone jack. These headphones also come with a carrying pouch, an airplane adaptor, the above-mentioned ear gels and an ear gel cleaning tool.
Priced at $249.99 (U.S. MSRP), Image X5 headphones will be available for purchase at select retail locations and on klipsch.com late next month. As a bonus, purchasers who complete an online warranty registration will receive a free package of replacement Contour Ear Gels in the size of their choice.
About Klipsch
Established in 1946, Klipsch — a wholly owned division of Klipsch Group, Inc. — is a leading global manufacturer of high-performance loudspeakers and other audio products for the consumer and professional markets. Through proprietary horn-loaded technology, Klipsch is committed to developing loudspeakers that create the most engaging, emotional, and dynamic entertainment experiences. A family tradition, chairman and CEO Fred S. Klipsch and his wife Judy purchased the company from founder and cousin Paul W. Klipsch in 1989. Based in Indianapolis, Ind., the company's headquarters is home to one of the most advanced professional audio research facilities in the world.